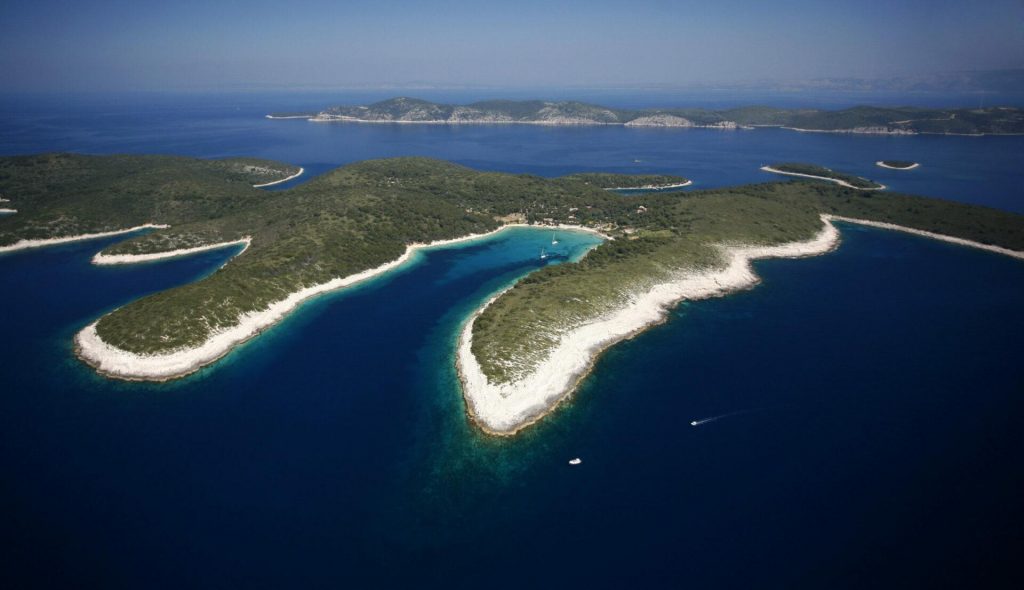 The past year has led us to pause and reflect, pivoting our priorities around mindful choices, and this includes how to travel with sustainably conscious charters. Crewed charters are one of the most elegant ways to travel sustainably, and this year, many yachts are navigating innovative new solutions to ensure their environmental impact is kept to a minimum.
With an industry that relies on the health of our oceans, at High Point Yachting we are passionate about educating all those we work with on the importance of sustainably conscious charters. There has been a shift in awareness, with a positive change of attitude happening across the globe. For crewed charters to make a difference, we agree with seagoinggreen.org who say 'change is happening in many ways, but one is down to the power of the yacht crew to make changes to daily operations.'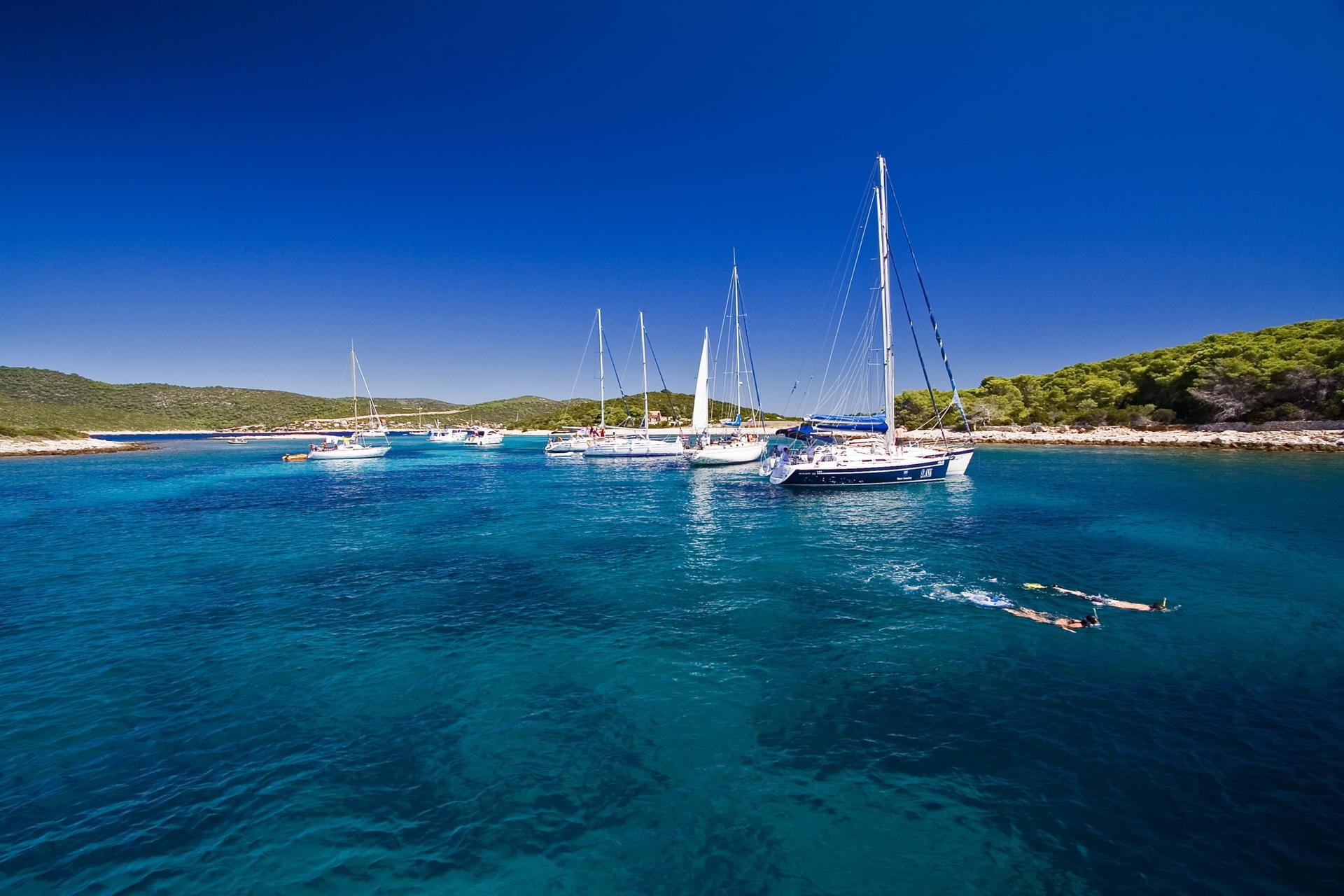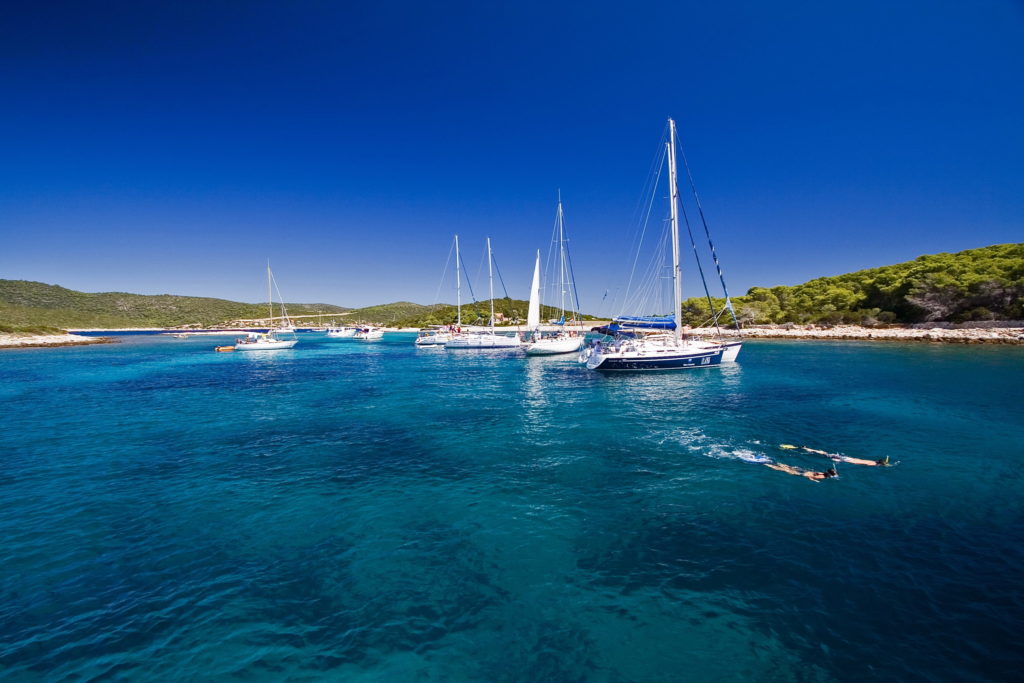 The New Plastics Economy shared some harsh truths surrounding the amount of plastic that leaks into our precious oceans each year. They reported that 'at least eight million tonnes of plastics leak into the ocean, which is equivalent to dumping the contents of one garbage truck into the ocean every minute'. With an estimate that by 2025, we'll have a ratio of one tonne of plastic to three tonnes of fish, and with potentially more plastic than fish by 2050; here at High Point Yachting, we are dedicated to play our part to offer sustainable yacht charters across the Mediterranean and the Caribbean!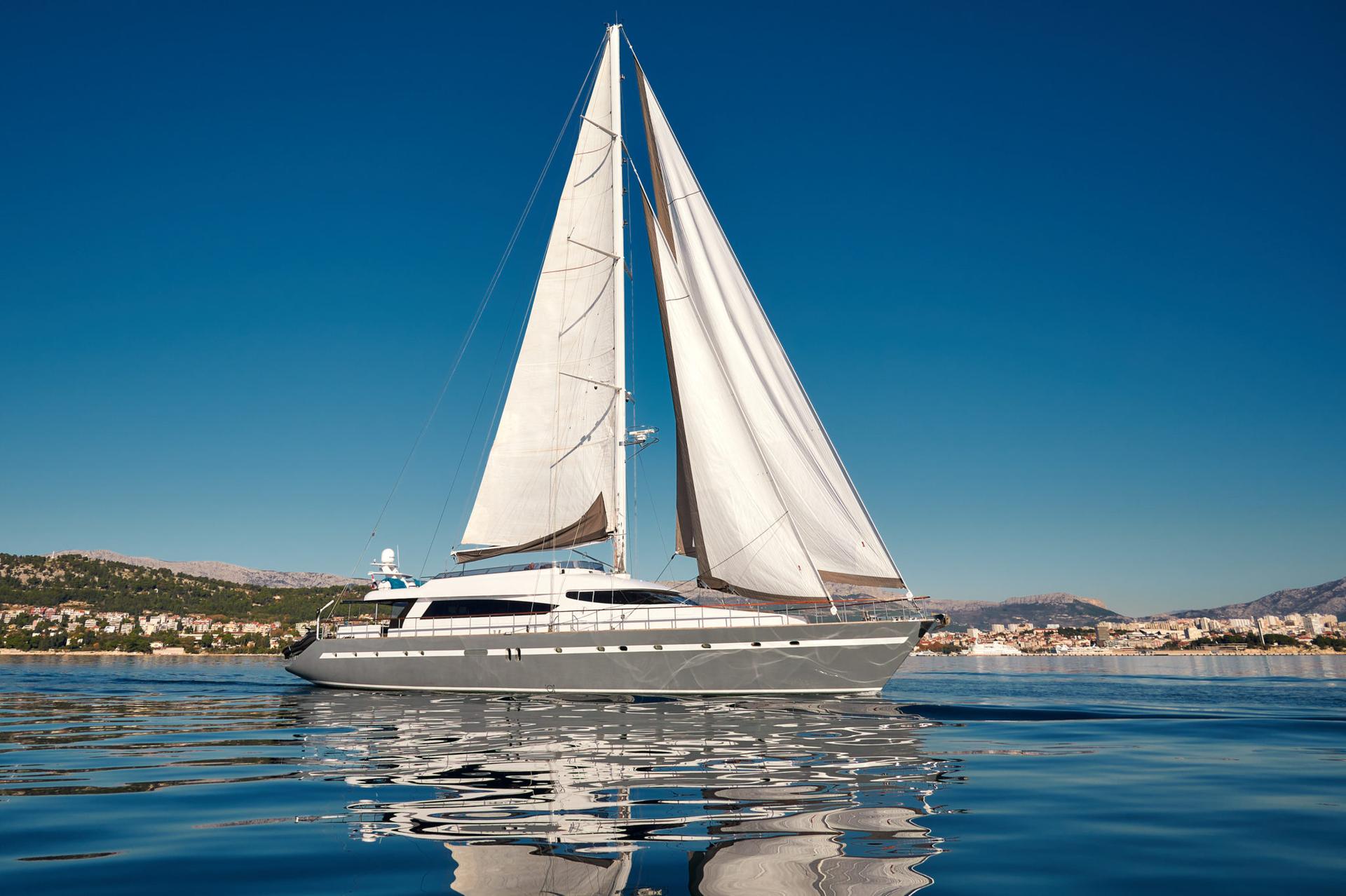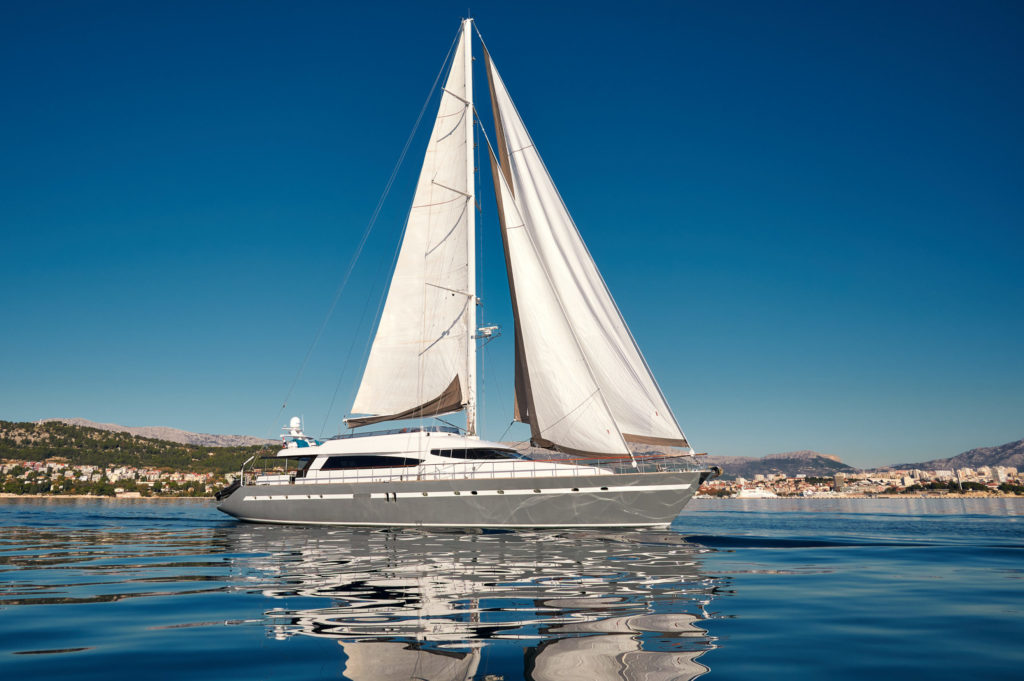 We are proud to have a glorious fleet of yachts who are going the extra mile. This includes our 34 metre SAN LIMI: a shining light within the High Point Yachting sustainably conscious fleet. Accommodating up to eight guests in four en suite cabins with five crew, SAN LIMI is an incredible yacht that pioneers self-sufficient methods across the Croatian coastline to produce her own water and electricity with the use of on-board technology. Each guest who steps on board is also handed a complimentary SAN LIMI glass water bottle to coincide with their ongoing goal to maintain a minimum amount of plastic used on board. And with paper straws, environmentally sourced food and drink and eco-cleaning materials and toiletries used throughout – she's one of our leading conscious charter options. Weekly charter rate in season from €39,000 + 13% VAT + APA.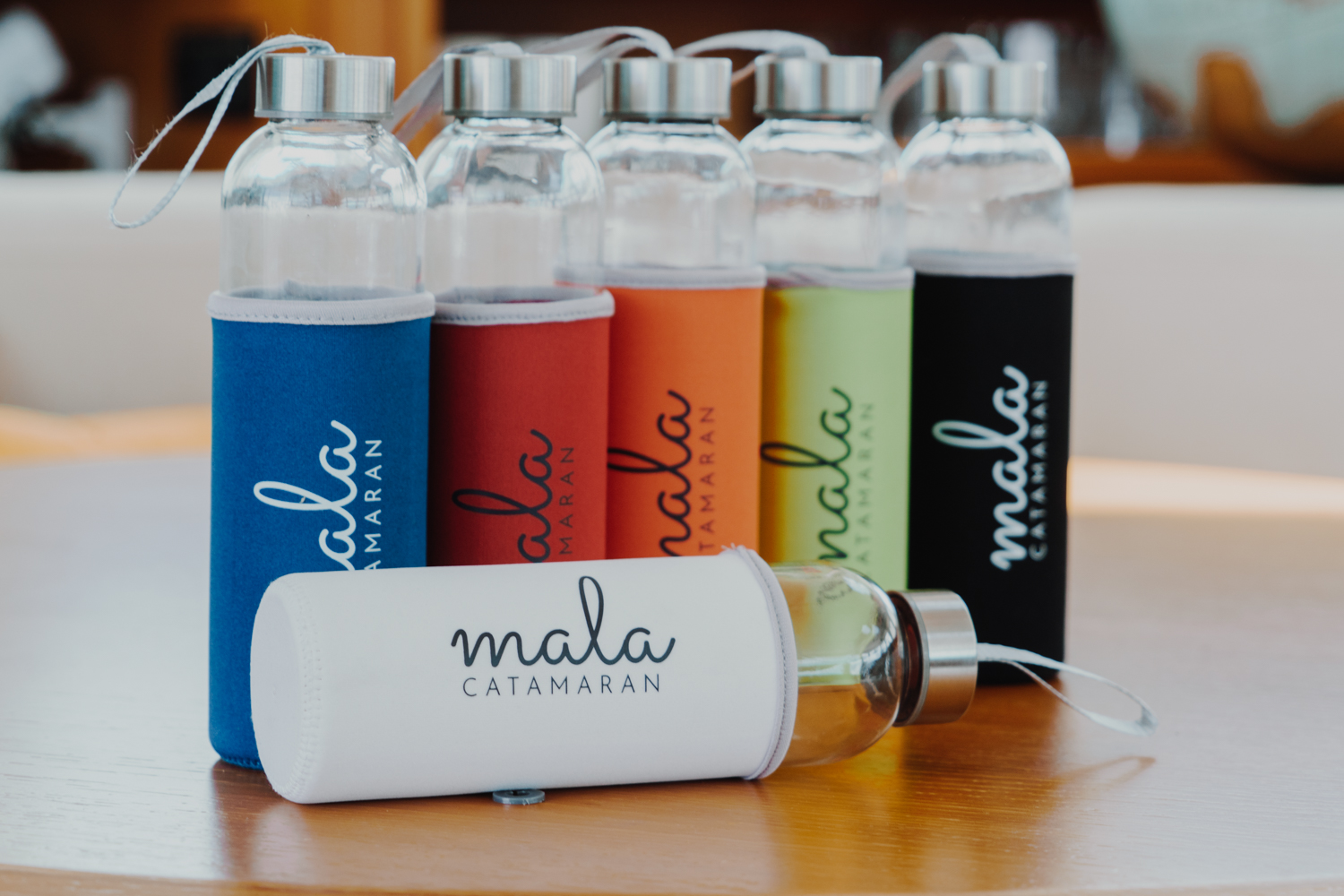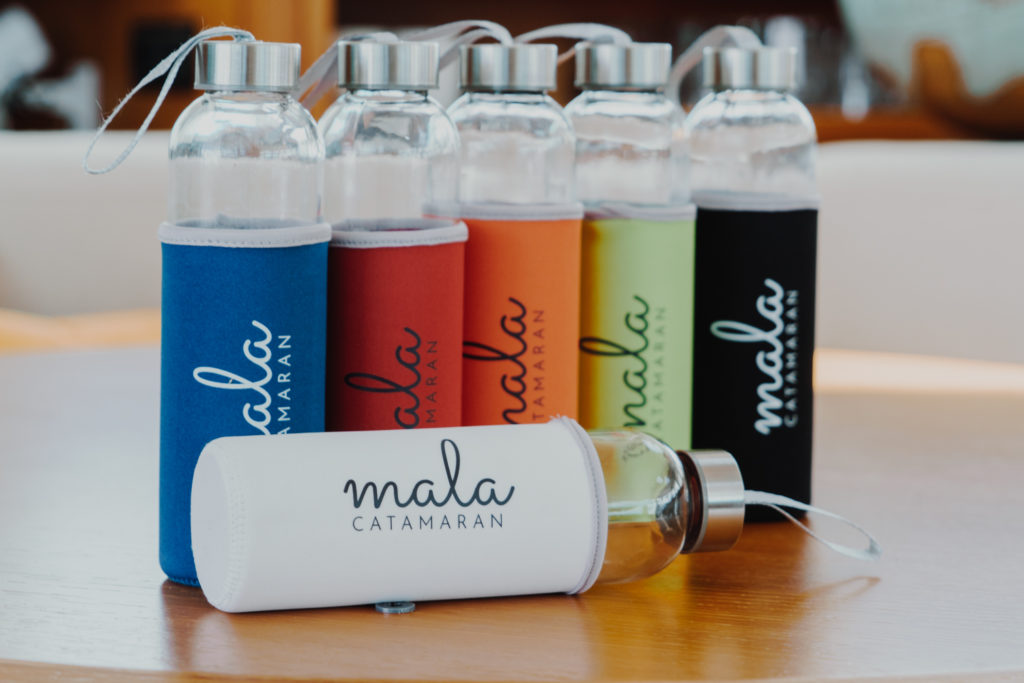 The crew onboard another of our favourite Croatian based yachts MALA has also done an incredible job in terms of their efforts on sustainability. At 17 metres for up to six guests, with three en suite cabins, and two crew members – MALA fills her sails whenever possible. The crew believe that it's the little things that add up to truly make a difference; from installing solar panels and creating their own drinking water for all those on board, they are recycling advocates. Whether it's food, plastic, paper or glass, in addition to handing guests glass water bottles, they use MALA cotton shopping bags and paper straws. Beyond this, they lead regular beach clean ups to ensure the beautiful Croatian bays they sail are maintained. With a weekly charter rate from €8,900 (VAT incl.) + APA, MALA is available until 5th June, between 2nd – 9th and 16th – 22nd of August and 2nd October onwards for a late summer sail.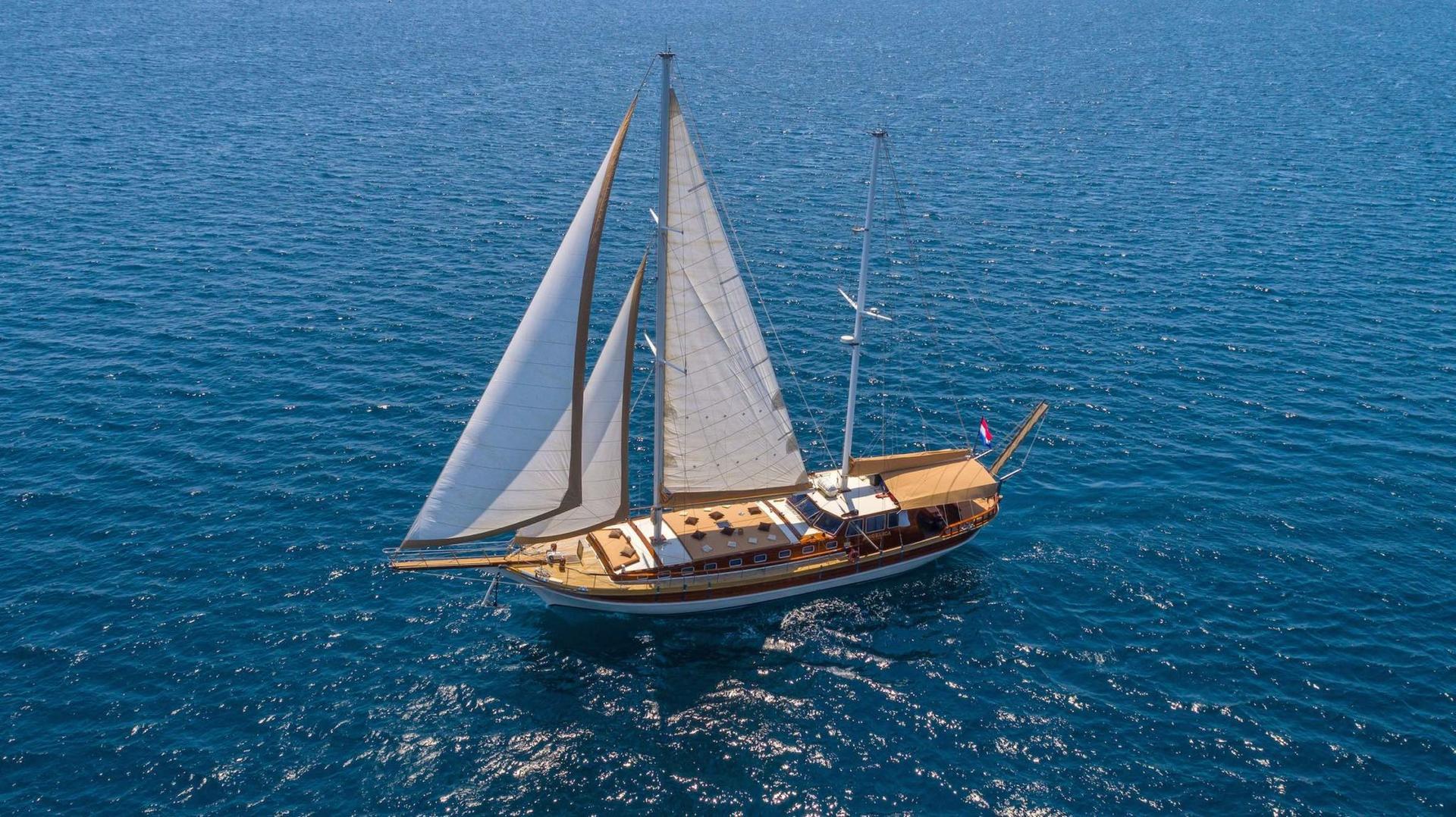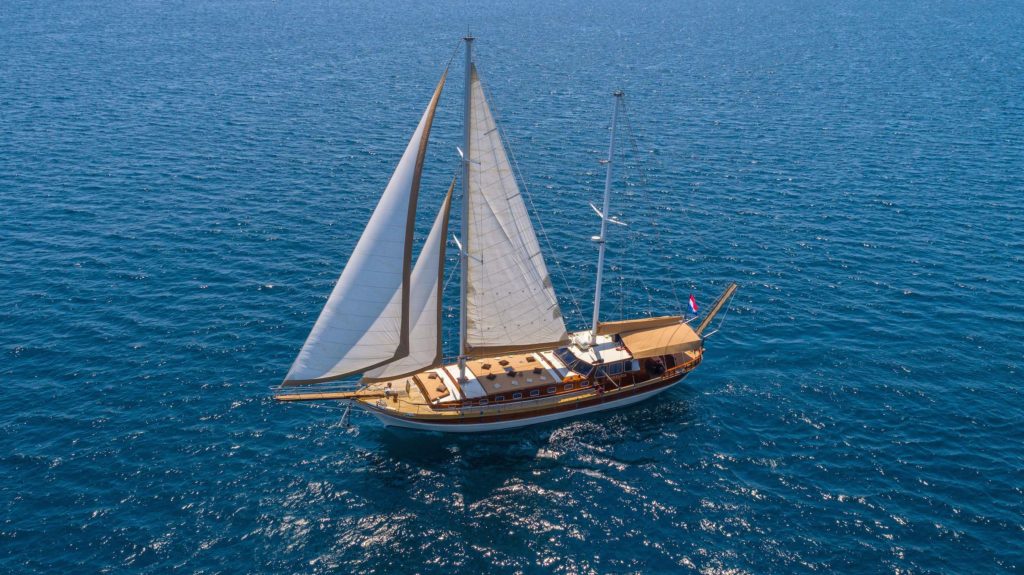 With a dedication to the environment is ANGELICA – a sustainable 30 metre Croatian gulet that recycles everything they use. Family run and accommodating up to ten guests in five en suite cabins, the four crew members work hard to completely reduce plastic. From day one they have served drinks in reusable glass, use cotton table napkins, eco-cleaning materials and purchase fresh food whenever possible to avoid excess packaging. And with the recent installation of 12 new powerful batteries, today ANGELICA also has a great capacity to store her own energy that is sufficient for 24 hours without the need for generators. Whilst keen to make use of mother nature's assets, Captain Ivica added that: 'Our clients enjoy sailing on our gulet and we are keen on promoting this as it is a wonderful way of reducing the usage of petrol.'  ANGELICA's weekly charter rate starts from €17,000 (VAT incl.) + APA.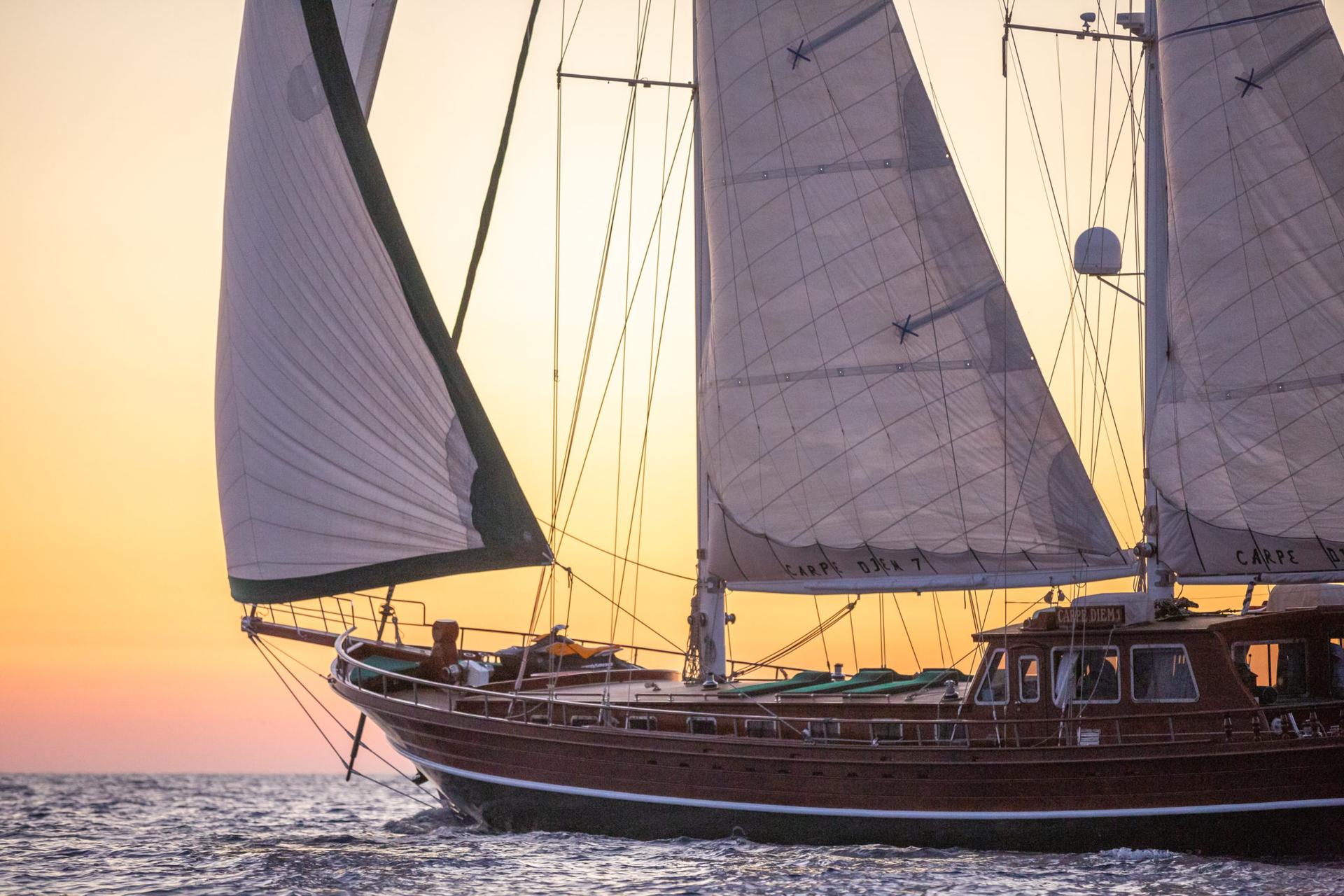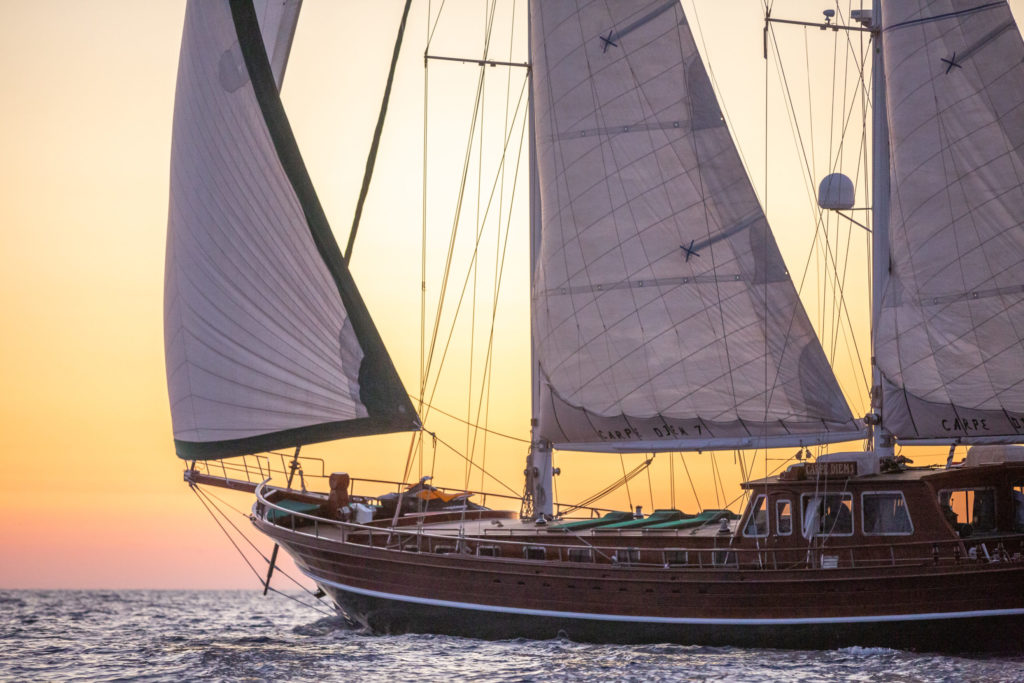 Keen sailors and true nature lovers are the crew of CARPE DIEM 7. Also family run and Croatian based, this 30-meter yacht caters up to nine guests in four en suite cabins; under the care of four crew members. Sustainably conscious, this gulet has managed to drastically reduce their engine running costs and petrol usage with the use of storing energy in batteries. Meanwhile, they tick other boxes with an on-board water maker, branded glass bottles and jugs alongside paper straws. Their weekly charter rate starts from €16,500 (VAT incl.) + APA.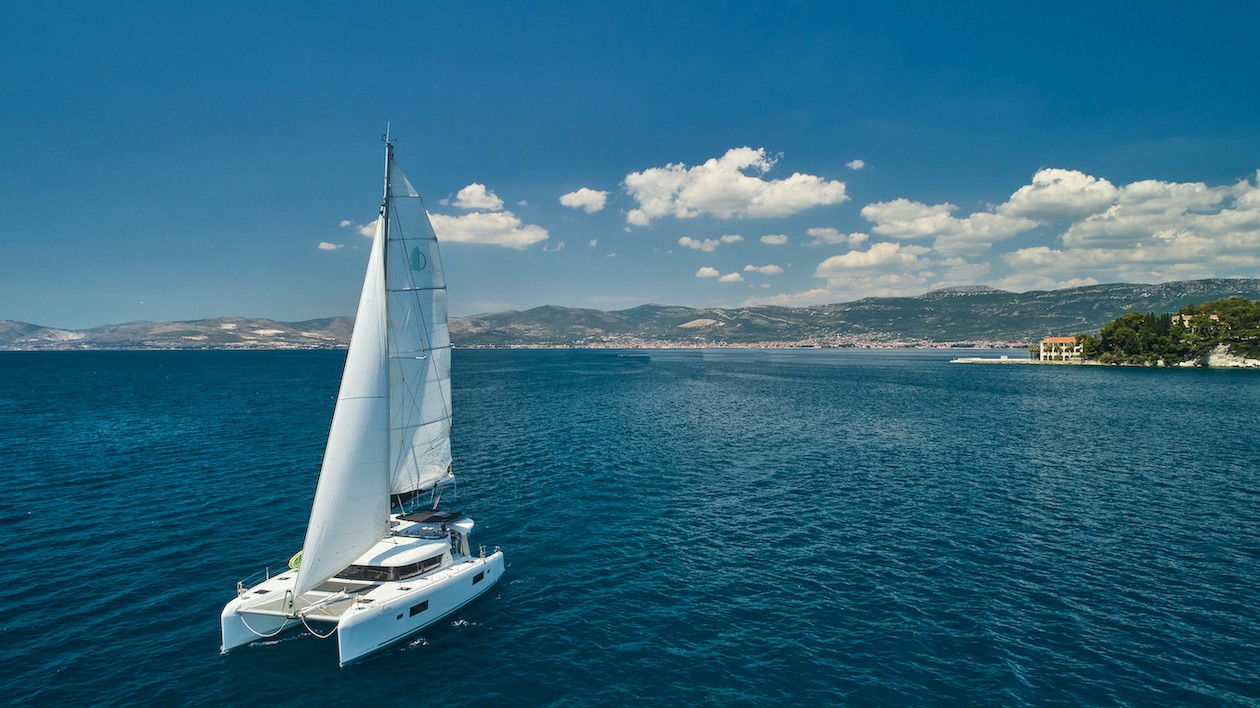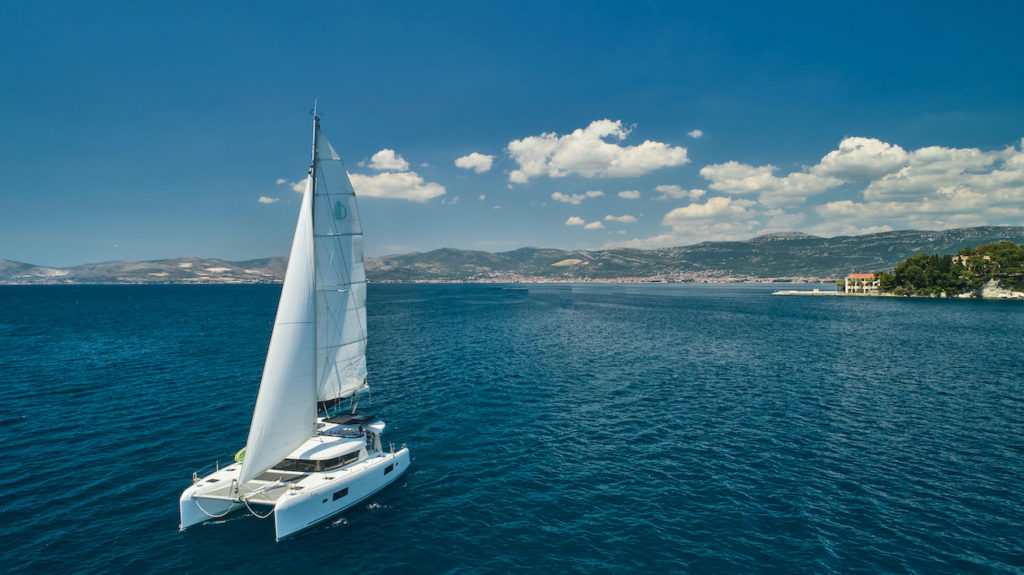 Any size of yacht can significantly contribute to protecting the environment by implementing these simple but important measures into everyday life. With a weekly charter rate from €12,000 (VAT incl.) + APA – other sustainably conscious charters within our wonderful High Point Yachting fleet include the 17 metre PURA VIDA which can accommodate ten guests in five en suite cabins with two crew, our 12.80 metre AURA who are expanding on their sustainable efforts alongside their beautiful new teak deck which is available at a weekly charter rate from €7,000 (VAT incl.) + APA, and last but not least – our 34 metre DOLCE VITA. Accommodating up to ten guests in five en suite cabins, with five crew members, her highly trained and long-standing crew have an invaluable knowledge of the Adriatic Sea. She is available this year at a weekly charter rate from €28,000 (VAT incl.) + APA.