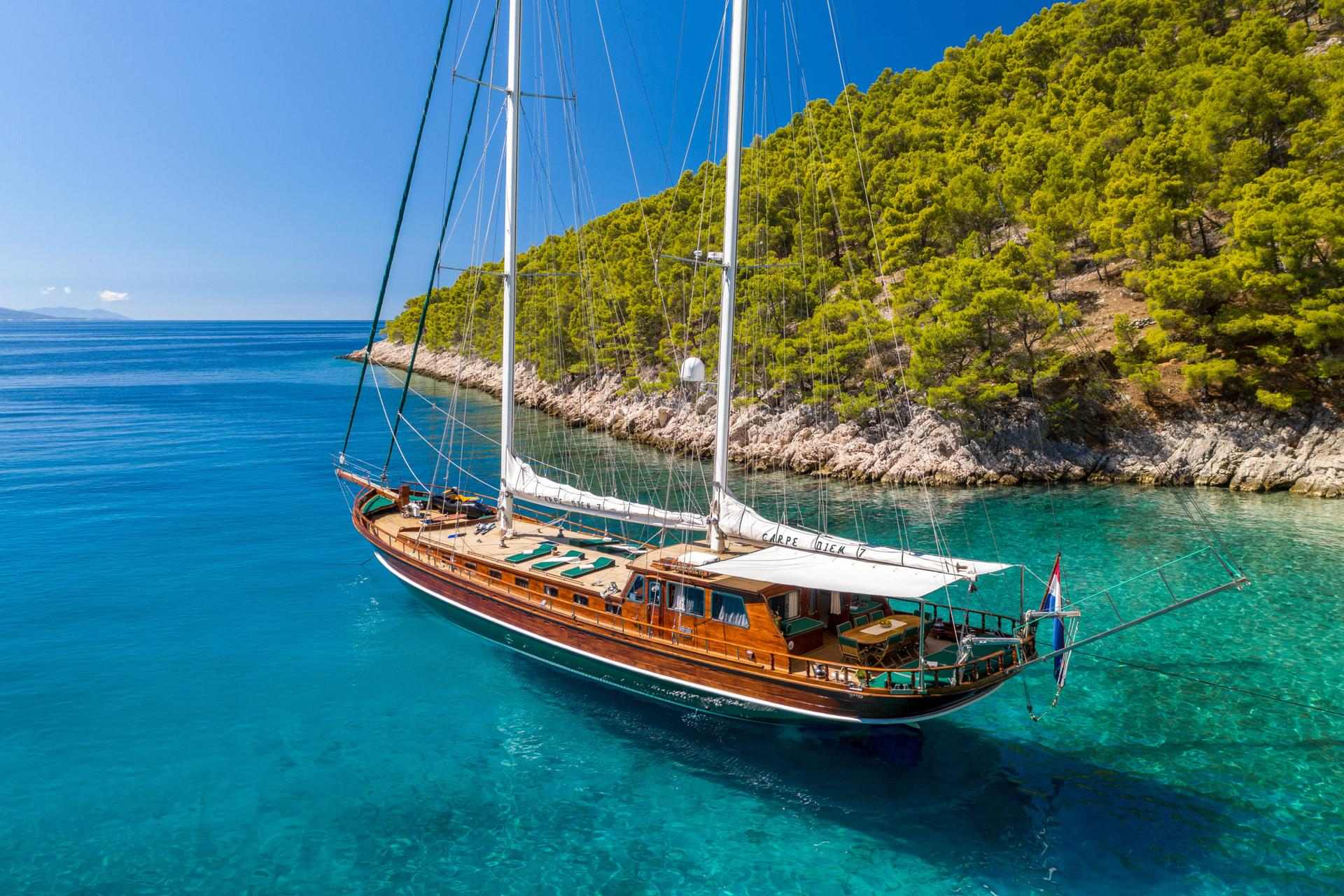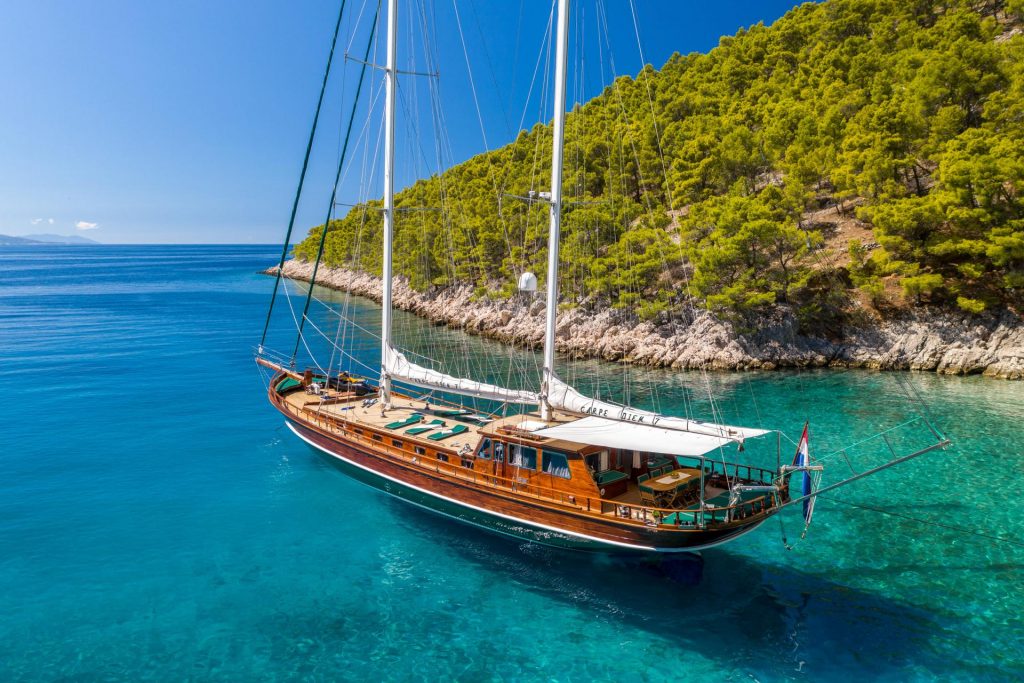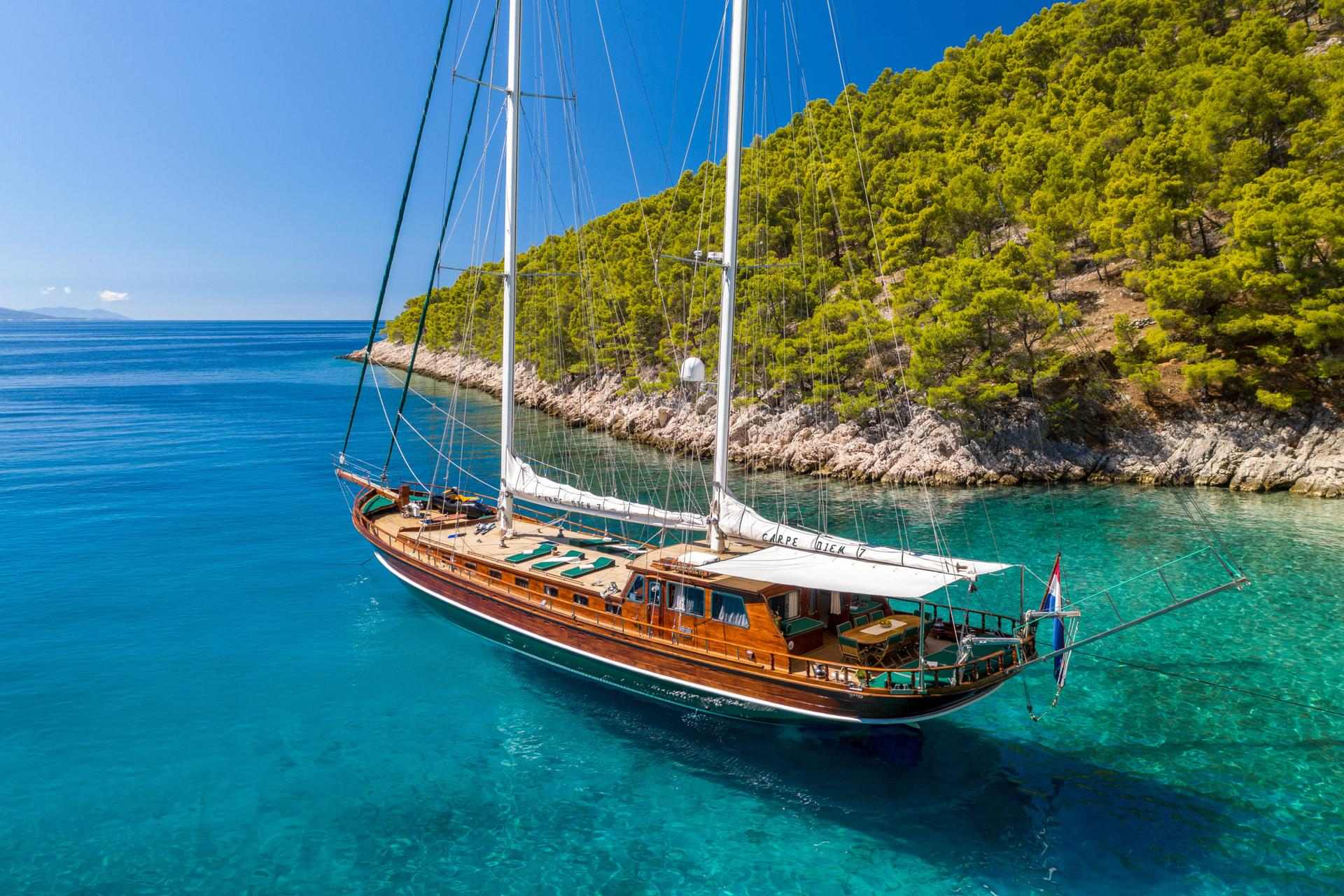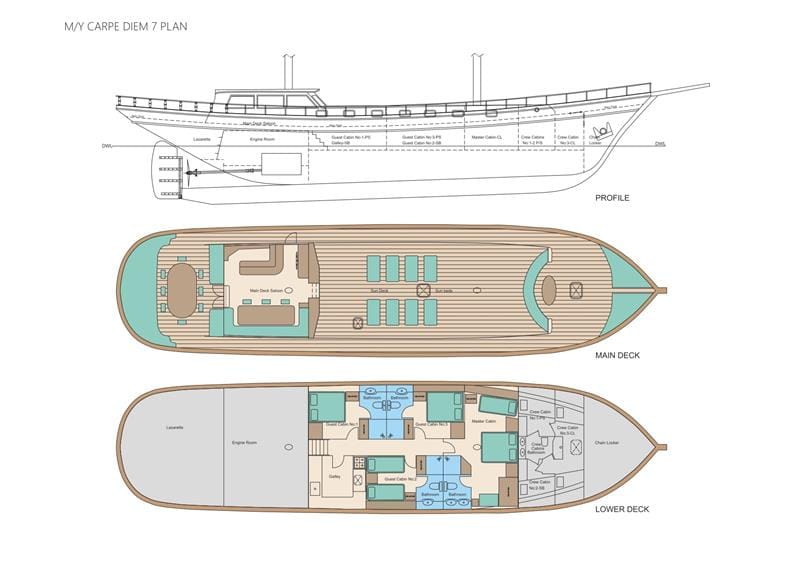 Specifications
Length: 30m
Beam: 6.90m
Draft: 3m
Built: 2003
Refit: 2018
Cruising speed: 9 knots
CARPE DIEM 7 is an incredible gulet.
Elegant, stylish, and a full-mahogany build, she is beautifully maintained with the utmost care. It is one of the very few gulets that sails—and with great performance, too (she was a multiple winner of the Bodrum Sailing Cup some years ago).
This is a family run yacht based in Croatia. Frano and Lorena, who are married, are wonderful hosts. Caring by nature, they give great attention to detail—to service, food, and the general ambience. It feels like a home from home. The rest of the crew takes the same approach. There is great harmony on this gulet.
Marino and Mateo, the young and enthusiastic chefs rotate during the season. Both draw their inspiration from their grandparents' cooking and it is fantastic!—traditional recipes, using local ingredients, slow cooked and presented with a modern twist. This is a paradise for foodies!
The outdoor areas are versatile and can be shaded or fully open, whatever the guests' preferences are. The large outside dining table offers a beautiful setting for up to 8 guests. Next to it is a comfortable lounging area with cushions.
The sunbathing/lounging bow area is a great size! Normally, the crew displays all the water toys there, right next to the steps that lead to the sea. There is a nice oval seating area there with two low cocktail tables. A perfect place to enjoy the views while sailing.
The salon has a bar and another large dining table that is rarely used during summers. The guests area, four en suite cabins, is completely separate and can be closed off by the doors in the hallway. The master cabin is large and takes the whole width of the gulet. The other three cabins are the same size as each other, two are doubles and one is a twin cabin. All cabins are en suite.
This great video was shot a few weeks ago and shows CARPE DIEM 7 in her full sailing glory:
SAILING WITH CARPE DIEM 7, SUMMER 2020
The Dalmatian coast is well known for its beautiful old towns. And quite rightly, too. They are amazing places, full of treasures from the Roman period to the Renaissance. You can construct fantastic sailing holidays travelling from one of these towns to the next, like the merchants of old. But you can also head just for anchorages, to relax, completely unwind and enjoy a bit of (voluntary!) isolation. We highly recommend it!
Here is a short clip highlighting a wonderful route, mostly created with overnights on anchor:
CARPE DIEM 7 VIDEO