We spent the last days of August in Croatia, my home country, on a wonderful gulet, Carpe Diem 7. 'Carpe Diem' means 'seize the day' … Make the most of the present moment. We did just that!
There was so much to enjoy while sailing. It was particularly blissful at this time, when day-to-day our lives are limited by various constraints and the world is full of worry. But happiness is our default mode, I believe, and it was easy to get back to it while sailing on Carpe Diem 7. The crew was delightful, the sea was unusually clear and a kind of blue I've never seen, the anchorages were quiet, surrounded by woods and the nights were still warm under star-studded skies. We swam during the day, enjoyed water skiing and paddle-boarding, ate wonderful local specialities prepared by Marino, the chef and had the most delicious local wine. I was filled with a permanent sense of gratefulness for so much pleasure and joy packed in each day.
Croatia has come a long way with its wine production over the past couple of decades. Various parts of the country are developing excellent reputations as good regional producers. Both, the Peljesac peninsula and the island of Korcula are on top of their game. During our week's sailing we tasted the best of both areas: Krajancic, Grk, Grgich.
I proudly recommend those wine to our clients when they charter in Croatia and I enjoy hearing about their delight in discovering something new and so wonderful. I love the hashtag #wineislifesgrease … Lucky are those who fully appreciate wine's beauty.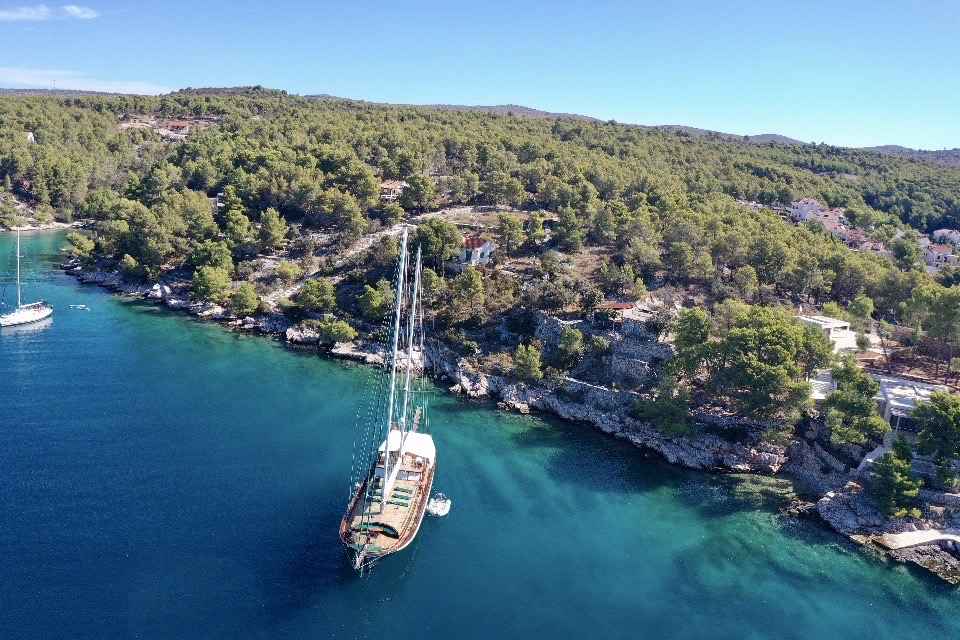 I have asked Marino, a young and enthusiastic Croatian chef to share with us his recipe for a superb local fish dish served wrapped in a baking sheet:
Briefly fry a filet of white fish on both sides and put it aside.
Cut in small: courgette, red onion, carrot, cherry tomatoes, potato, garlic (garlic only in half), fry them on olive oil 5-10 minutes, until soft (alternatively, cook them in water until soft).
Lay out a baking sheet and put all the vegetables with a fish filet on top. Cover it with a little bit of olive oil and some flat leaf parsley. Then wrap the sheet with cooking rope, tie it well like a small present. Set in on a tray and put it in the oven at 180 C degrees. It takes 15 minutes for it to be ready.
Then wait until you undo the rope, open the parcel and let the mixtures of aromas fill your nose…. Heaven for foodies!
Croatia, August 2020
Talk to: SASHA about gulet charters in Croatia