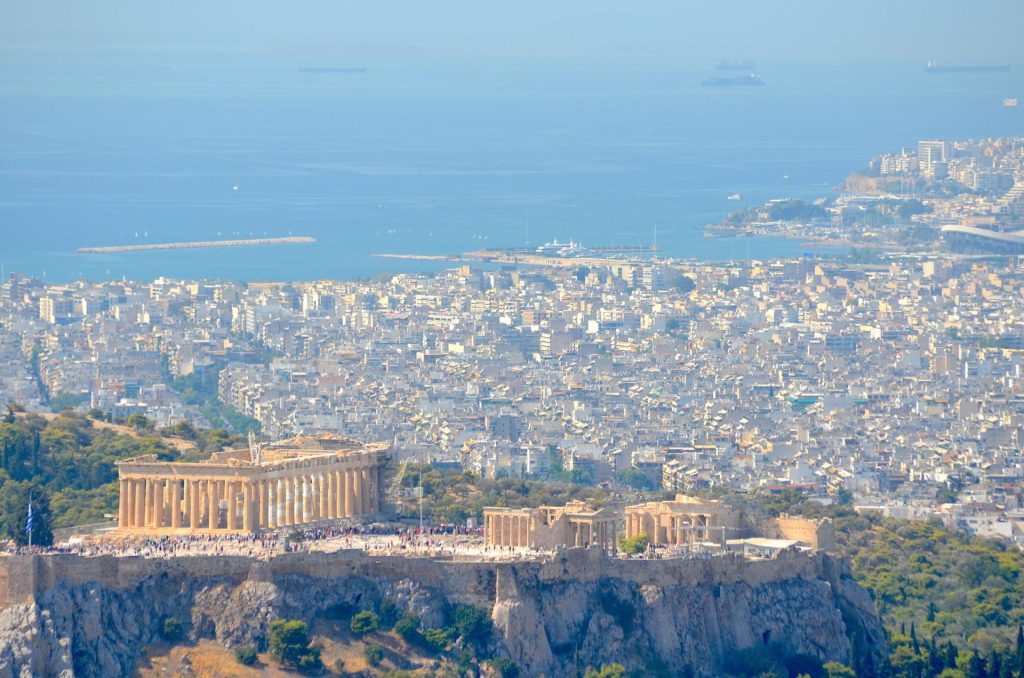 Since 2007 Sasha and John have been working together organising the annual HPYF events, and they each contribute what they are best at. Sasha
sources the yachts and deals with the charter companies, organises the Welcome and Prize Giving events and takes care of land transfers,
advice/information on day to day plans. John is responsible for creating the Logbook, for planning daily courses and acting as Race Officer for the
week. John also calculates (informed guess) the handicap. Our right hand man is Dave who has been with us from the start, patiently helping with
on-the-ground arrangements.
HPYF 2015 was held in Greece for the first time. We started and finished in Athens and thoroughly enjoyed this extraordinary country!
Our special thanks this year go to Nomicos Yachting who have provided an amazing fleet for us and been most helpful with providing useful
information and helping with arrangements. We would also like to thank the Kitchen Bar for their warm welcome and a great organisation.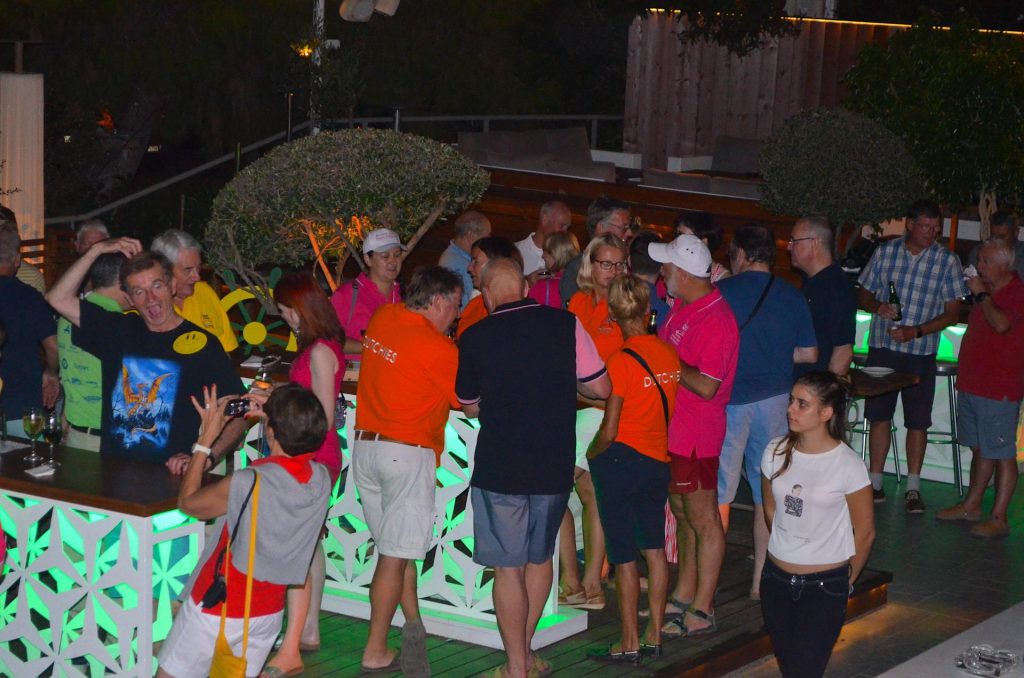 We all met up in the Kitchen Bar in Alimos Marina and resumed where we left off last year, everyone catching up on each other's news since
Gocek. Philip and his crew provided decorations and some delicious cheese for all to enjoy, hosting as the previous year's winners.
Thanks, Philip!
Unfortunately our very dear Diane was involved in a fall that broke some ribs and badly damaged her knee. As a result, she and Martin had to
miss the week and Diane spent the first few days in an Athens hotel before being transferred to the QA in Cosham near Portsmouth, UK. Nhoj
took over as skipper and his confidence grew from not even participating the first day, coming 5th on day 2 and then winning on day 3. Well
done, Nhoj and it was great to hear such positive comment about you from your crew.
Colin had work commitments in KL, so Nige stepped up as skipper and the team continued as though Colin was there, but invisible and muted.
Nige was popular, so I wish you luck finding crew next year, Colin! Seriously though, we did miss you, Colin.
Here is a link to this year's SOUVENIR BOOK and below is some more information about the route that we covered: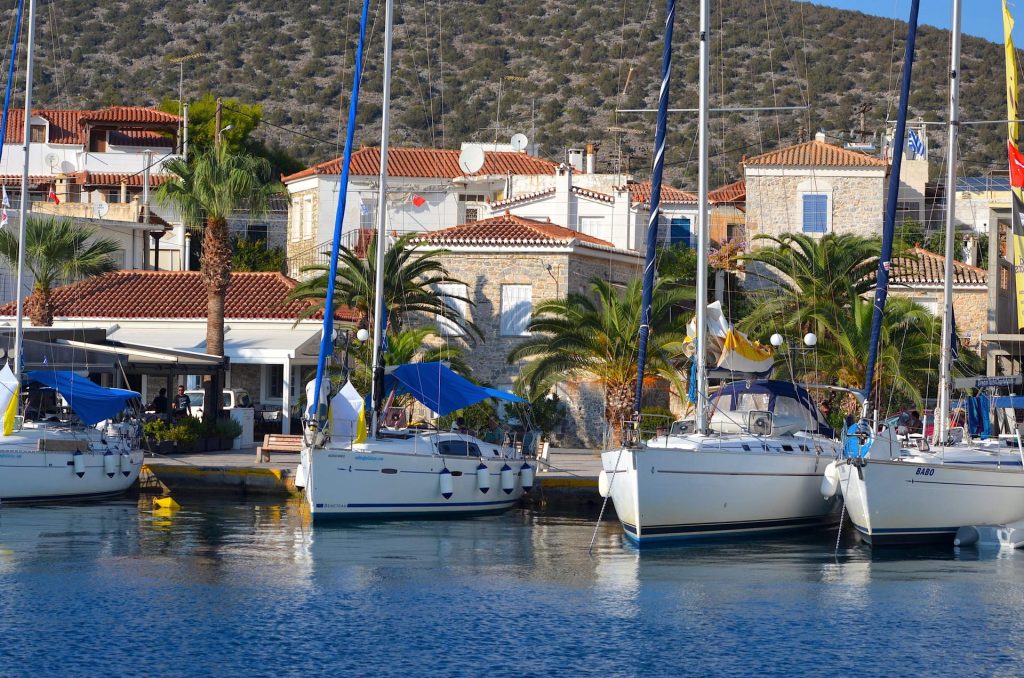 DAY 1
Ermioni was our destination and, with the light winds expected all day, we motored early. The fleet paused for a potential start just NNE of Poros
(the big one) but it was clear the breeze was insufficient for a decent race, so we motored on. The wind did finally come up a little and we had a
short "fun" race, starting in a line under motor and at the declared start at 6 it was engines off and sails up. An easy reach took us to the beacon
on the east end of the Ak Kastri peninsular (7). Philip won but the result was not included in the results as it was just a practice, shake-down race.
We moored up in Mandraki on the south side of the peninsular and had a great choice of tavernas and restaurants.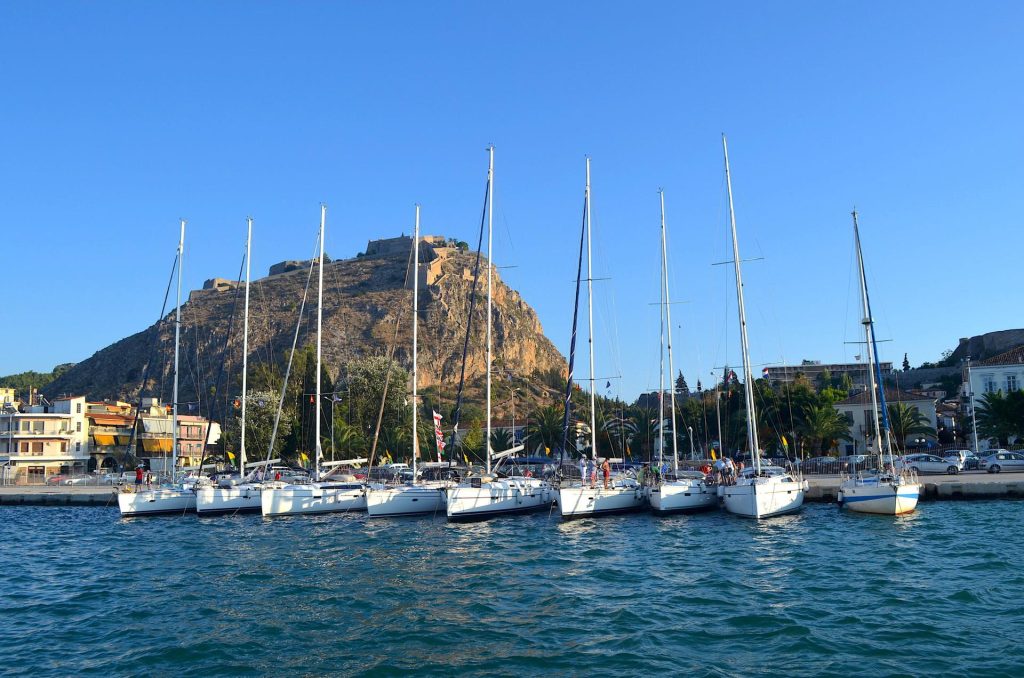 DAY 2
Again the destination was a long one and the winds were light but enough to get started at 3 just west of Spetses and the finish was at 5 Lpsili
island (light bears 90). Dave Brewster was the first to retire as the winds died, Dave Barlow very nearly made it to the finish and Denis and
Steven were stuck in a hole together some 4 miles from the finish. The race was 3-3.5 hours long, Caroline won by about 40 minutes with the
next 5 finishers separated by a mere 6 minutes. The rest didn't finish and had their results based on corrected distance sailed (course length
minus distance to finish divided by TCF).
We motored into the romantic town of Nafplio and moored up stern-to the southern part of the commercial quay. Another evening with a
good selection of dining choices and many crew climbed 999 steps to explore the Palamidi Castle 216m above sea level.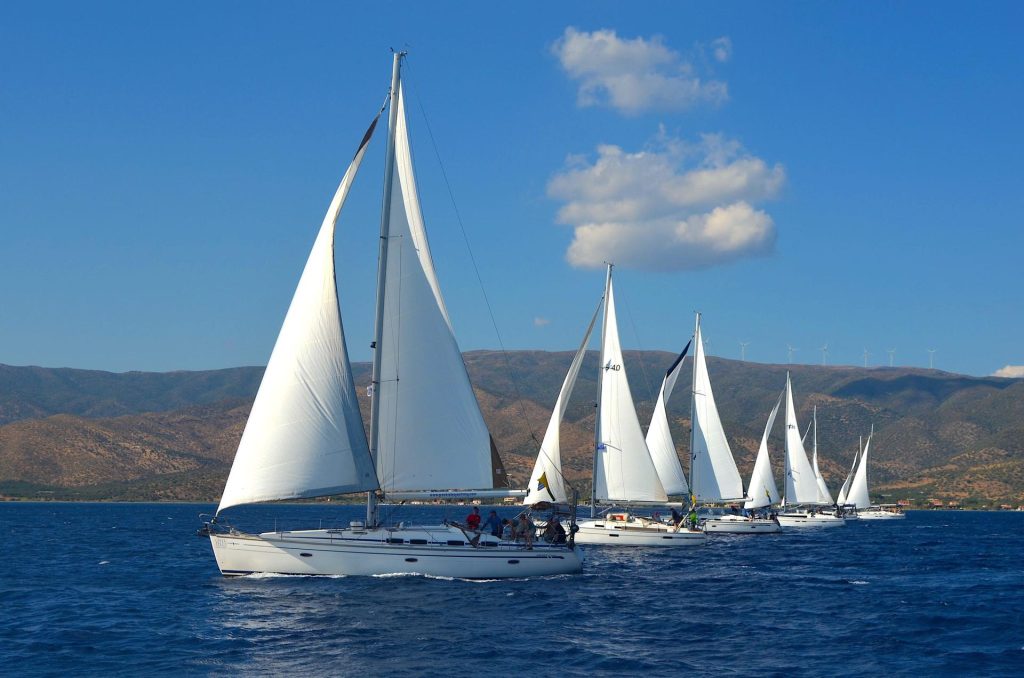 DAY 3
The shorter route allowed a later start giving a chance to further explore Nafplio and more climbing of steps for the energetic. With a gentle
SSW breeze we were able to use Platia as the upwind mark left to port (Keith, please note!), then Lpsili to starboard and the finish was when
the light at Korak was to the north. The 2-2.5 hour race was won convincingly by Nhoj, several seconds ahead of Philip. Caroline was a disgraceful
(by her standards) third! Denis, Caroline and John all got their worst results this day. We then motored to the Spetses harbour at Baltizas but the
chain of contacts we had, had failed to reserve us the spaces we were promised. After trying to tie to the shore with an anchor in the harbour,
we decided it would be safer, quicker and much nicer to moor up in a secluded bay to the north and the fleet duly motored 3nm to the bay at
Fragkas on the N coast of Spetses. It was much appreciated and extremely helpful that the fleet remained patient throughout this brief period
of chaos and just followed quietly! It was a beautiful restful night there as the crews caught up on their sleep, all anchored separately.
A couple of yachts went to the west end of the bay to take advantage of the taverna there.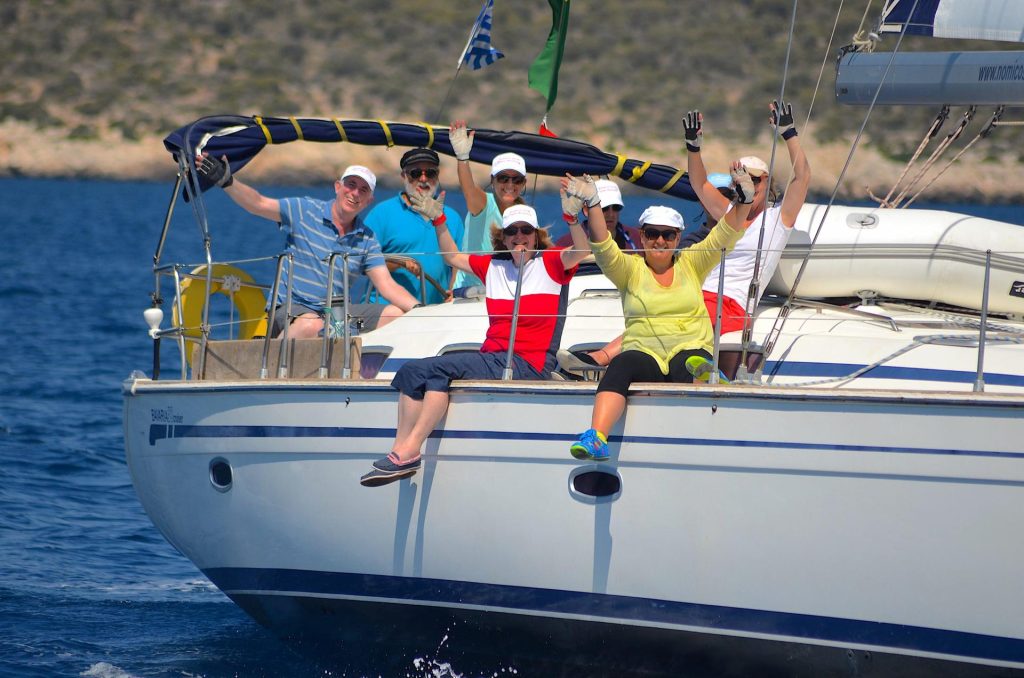 DAY 4
The wind was light again until just after midday when it came up beautifully from the NE, backing to the north later. So we were able to make
a short race from just north of Hydra at 6 to the light Skilli on the north tip of Tselevinia at 7. This course perfectly illustrated the need to take the
side of the course that the wind moves towards. We went to the right and the wind went to the left, leaving me cursing Denis for taking us so far
right by (understandably) starting late. It didn't do him any good either as the wind shift was wrong for him too. Again Caroline finished miles in
front of the rest of the fleet, Philip a convincing 2nd and Dave Brewster secured the final podium position, his best result of the week, as was
Nigel's 4th place. We then motored past the attractive south side of Little Poros island and moored stern-to in the NW part. From there we all had a
great Greek Night in the Platanos Tavern until late. Fantastic evening, and it was great that everyone participated. The grappa did it for me, I'm afraid.
DAY 5
The wind was really gentle all day so, after swimming at sea for a while, shortly after midday, we decided to moor early in Pirgos Bay and
have extensive swimming time before the gourmet-Roux night started. The whole fleet rafted up with the biggest in the middle in an efficient
and faultless display of synchronised formation mooring. Perfect! Diving from the pushpit of Denis's yacht provided some surprising sights,
with David Boocock achieving a high quality almost splash-less dive without even losing his cap and later recovering our Dave's shades from
the seabed. Well done and thanks, David!
My personal favourite was our Dave's backward somersault with feet-first "totem pole" entry. The Roux-Gourmet night again saw a fantastic
selection of great dishes, but Mike's very spicy and delicious curry stood out and won the prize. Time also to mention Tory's brilliant trifle which
she prepared enough of for everyone to enjoy and got all the ingredients through customs – thanks, Tory!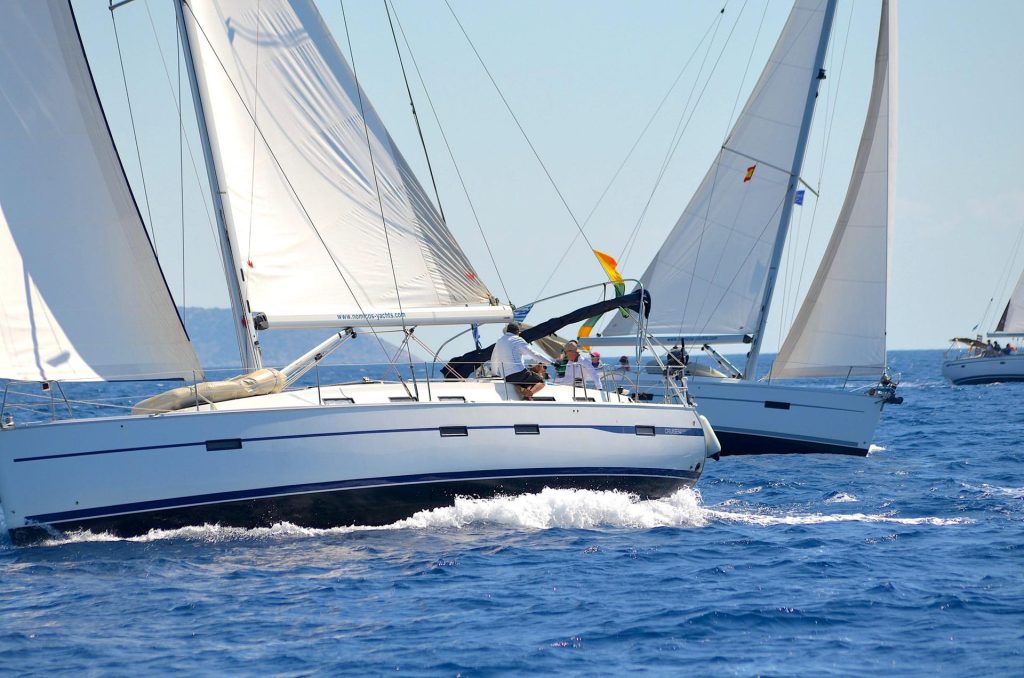 DAY 6
The wind started with a manageable north-westerly enabling an early race to start using Moni island as the windward mark to be left on
starboard with a finish at the light Plakakia on the NW tip of Aigina.
The wind remained gently in the NW so we had a second race starting mid-afternoon SSE of the island of Stakhtorroi. Unfortunately the wind
became very light and the course had to be shortened so that we got back to Athens in good time. Shortly after the finish the wind came right
round to the north and strengthened to about 18 knots at times and, if we hadn't been so time limited, we could have even had a decent third
race of the day on a screeching reach to the east. We got back to Alimos marina in good time and got the yachts and ourselves ready for
the prize-giving.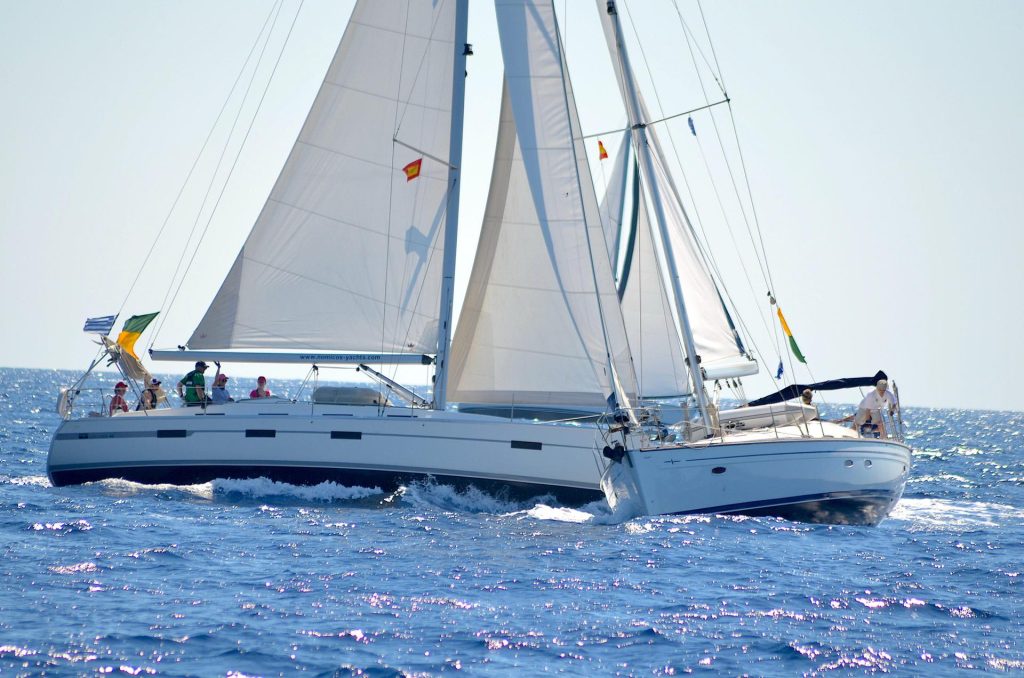 Caroline and her crew were presented with the new HPYF trophy hand crafted by Martine and also received the HPYF telescope and
a bottle of Mumm.
Second place went to Philip and his crew who received a bottle as well and a picture of some bloke in a salty sea dog pose.
My team and I were presented with third prize, a picture of a serene yacht in the middle of an open sea – a great reminder of the week!
Denis's team won the Roux-Gourmet prize for Mike Donovan's Thai curry.
Denis's team also won the barnacle prize (given originally to Dave Brewster by David Barlow for coping with the most barnacled yacht in 2012).
Denis was awarded the prize for having live wriggling barnacles on his hull, making no complaints about his handicap and still achieving a
position of equal seventh overall.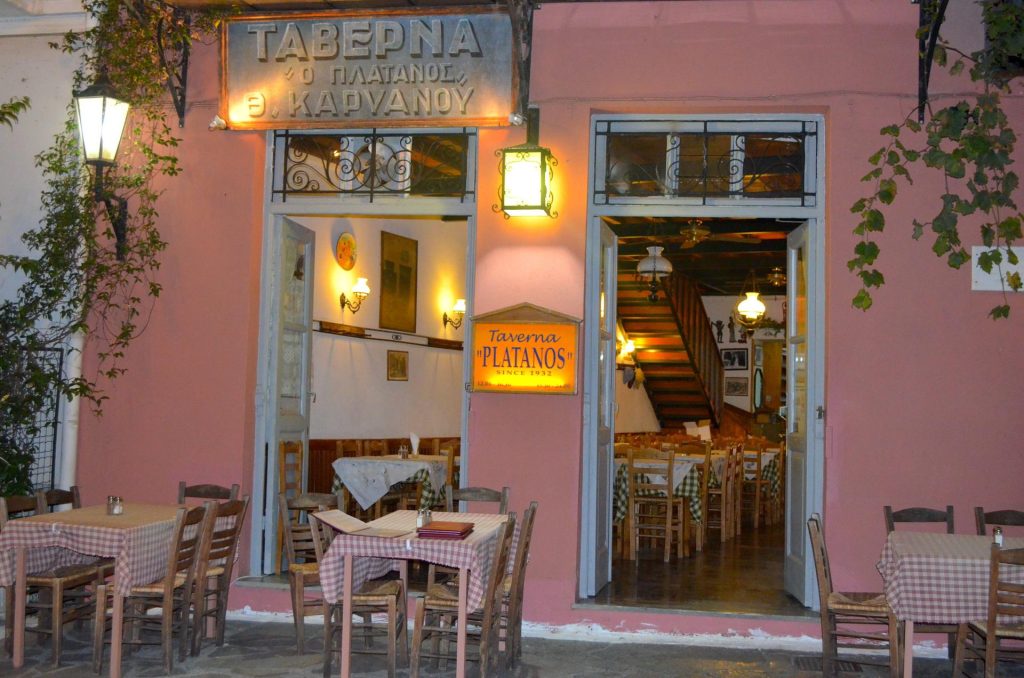 That's it for this year, thanks to everyone for coming and making it such a great week. Sasha and I will shortly announce next year's venue
and timing. I know it would be nice to avoid too much motoring, but if you have any other suggestions for things to avoid or keep, please
let us know and we'll do our best to accommodate.
All the best and wishing you all a fair wind and favourable tides until next year,
John
Please check the link below for more information on the High Point Yacht Fest event and other past and current events too:
HPYF regatta, 12-19 September 2015, Greece
Check our next Yacht Fest (HPYF 2016) here.