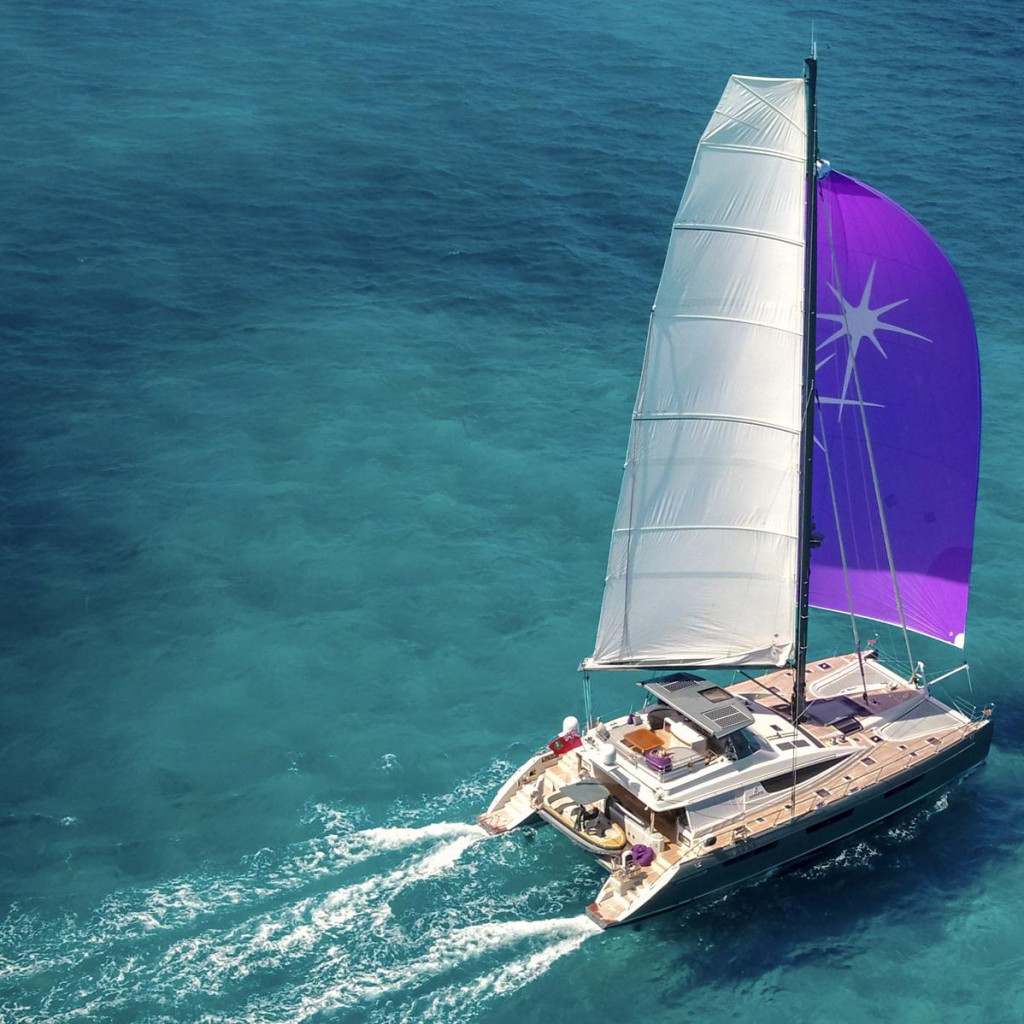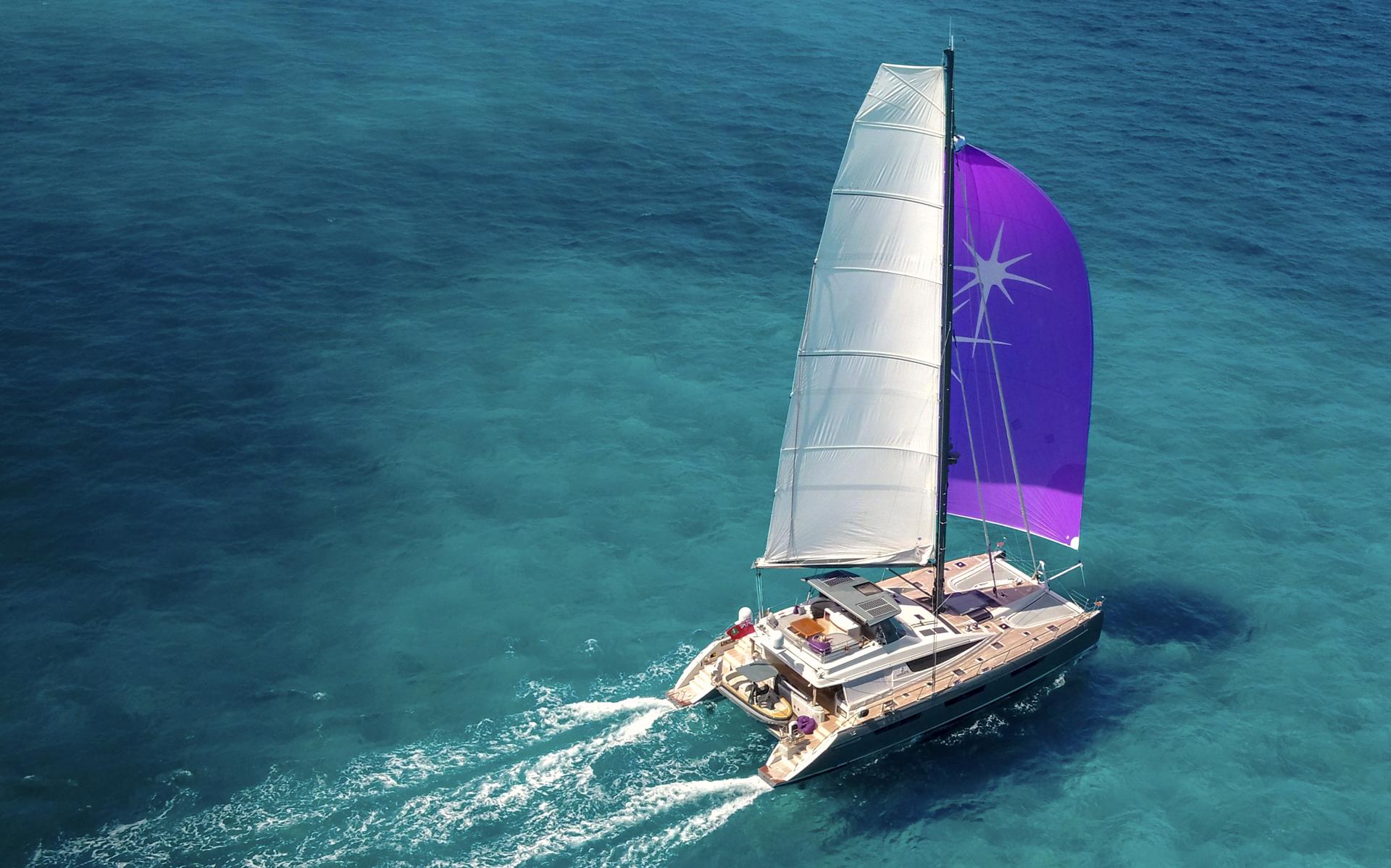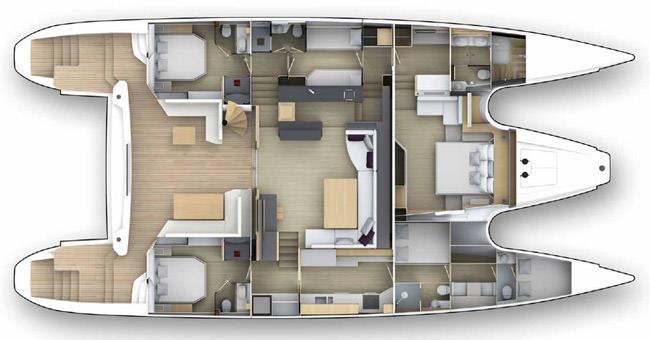 Specifications
Length: 23.77m
Beam: 10.67m
Draft: 2.92m
Built: 2016
We've had great feel about the catamaran NAMASTE! It is something about her wooden deck, with lovely touches, her modern and warm interior and her welcoming crew, fully dedicated to the best charter experience for their clients.
Catamaran NAMASTE was launched in early 2017 and is the result of the owner's uncompromising commitment to marrying the best in state-of-the-art machine engineering with the best in style and design.
This custom-made catamaran offers a great opportunity for exploring some of the most exotic and unique places in the world, while on board a five star luxury vessel.
Catamaran NAMASTE offers accommodation for up to six guests in three en suite cabins:
- 1 Master cabin with leather sofa
- 1 double cabin (can be converted into twin)
- 1 double cabin
All cabins are equipped with hairdryer, private A/C control, TV and DVD player, Bose sound system, Wi-Fi and Bluetooth connection.
Catamaran NAMASTE offers a lot more than just a sailing experience in the Caribbean. This crew are expert in Antigua & Barbuda, an area rich in history, marine life and beautiful nature. The captain has spent seven years cruising around this area and has a wealth of local knowledge to help guide your adventures.
Namaste is equipped better than a luxury resort. There are sea scooters, pedal kayaks and Segways, as well as everything you need for scuba diving, snorkelling, and paddle boarding. Namaste's unique onboard spa experiences offer true journeys into relaxed bliss. Namaste is equipped with a Jacuzzi, a steam room, and exercise equipment.
Namaste's supports the philosophy that balancing mind and body is the ideal for achieving health, happiness, and living a meaningful life. Each day aboard presents a chance to combine activities to enhance your mind and body.
Please follow the link: CATAMARAN NAMASTE HANDBOOK to find out more about carefully designed experiences offered on board catamaran NAMASTE. Some were brought in from the best spas in the world. Some are uniquely enabled by living on board of an exceptionally equipped and crewed sailing yacht and focus on exploring the areas through which Namaste travels. And others take advantage of the slower pace of life on Namaste, making space to learn or simply be.
Availability of the all experiences listed is not guaranteed.
Catamaran NAMASTE: The Sustainable Yacht Charter
- We have water bottles for the guests as a gift. We don't use plastic water bottles on board
- We use paper straws
- We make our own eco-friendly lip balm for the guests
- We use eco-friendly cleaning products on board for washing the boat, dishes and laundry
- Guests toiletries that we provide are eco friendly too
- Eco-friendly sunscreen is on board for the guest
- When provisioning for the charters we try to use as many local products as possible without the plastic wrapping
- We have 2 water-makers onboard so we make our own water
- Crew's board shorts are made from recycled plastic.