Sustainability is at the core of High Point Yachting's values, a yacht charter broker based in the UK. Writer Anna Myers walks us through how this company is making changes to accomodate a growing cultural demand for sustainablity in travel.
Written by Anna Myers
Eco-friendly travel has sparked a huge shift in the industry in the last five years. And it's clear that this trend is here to stay. With sustainable holiday packages and environmentally-conscious destinations increasingly hailed as the new way to travel, buzzy terminology abounds and it's easy to see why. From former tourist mecca, Venice, introducing limitations on the number of people allowed into the city in an effort to reduce mass tourism and day-trippers, to photograph from 2019 of eager climbers lined up to reach the top of Mount Everest sparking conversations around how to manage overcrowded hot-tipped locations. Overtourism can disrupt local life, change the makeup of a territory, and cause untold environmental damage.
Holidaying at sea is one of the few ways to travel without running into crowds and queues. And yacht charters offer a unique chance to see beautiful destinations and live local experiences while basking in perfect tranquillity and utmost privacy.
The question is, can they keep up with the sustainability needs of modern holiday goers? Recently, I was lucky to travel to Croatia with leading UK yacht charter specialists, High Point Yachting, to find out the answer.
High Point Yachting & Sustainability
With over 20 years of experience, their fleet includes sailing yachts, super yachts, catamarans and gulets across the Mediterranean, Caribbean and French Polynesia – and at High Point Yachting, sustainability is the name of the game. With a New Plastics Economy report highlighting that 'at least eight million tonnes of plastics leak into the ocean, which is equivalent to dumping the contents of one garbage truck into the ocean every minute', alongside an estimate that by 2025, the ocean will have a ratio of one tonne of plastic to three tonnes of fish. The team at High Point Yachting know how vital it is that each key actor plays a part in avoiding ecological disaster.
"I think superyachts have two major ecological challenges," says Sasha King, founder of High Point Yachting and one of the leading Croatian yacht charter experts. "One is reducing greenhouse gas emissions and the other one is reducing waste. Reducing fuel consumption is not easy and progress on that will be driven by either finding cleaner types of fuel or improving the design of boats." This is where scientific progress and industry research come into play, as clean alternatives are still not readily available. "Sailing super yachts obviously do address this fuel issue in a major way," continues Sasha. "However, on the issue of waste, a lot is being done and a lot more can be done."
But what can concretely be done to transform the industry?
San LiMi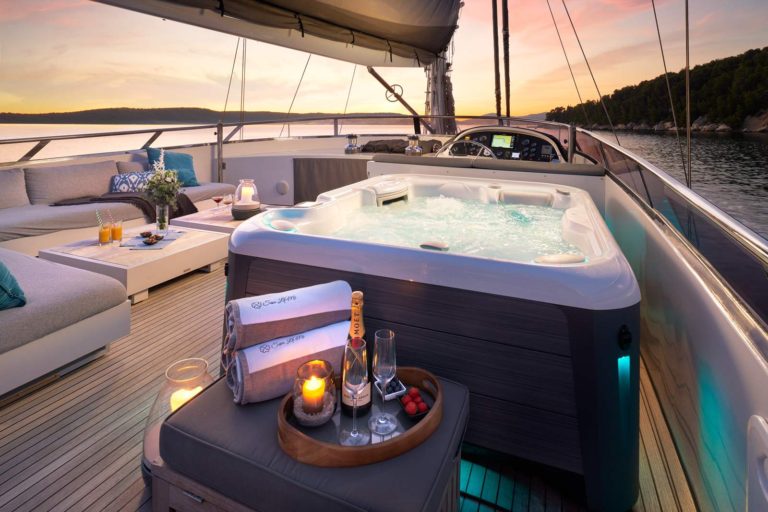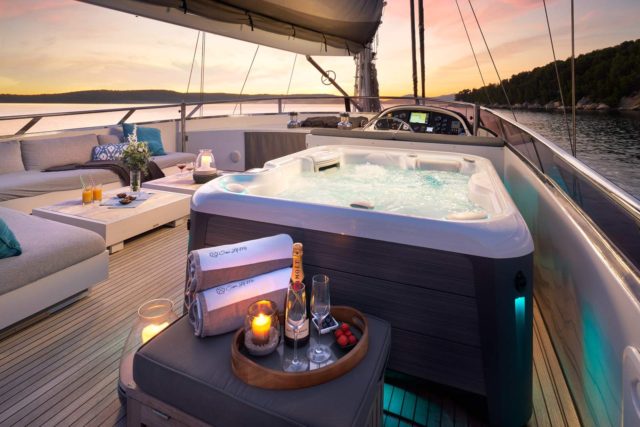 Sleek and modern 32-metre San LiMi is an excellent example of a sailing super yacht that takes the health of the environment seriously: a shining light within the High Point Yachting sustainably conscious fleet. San LiMi pioneers self-sufficient methods to produce its own water and electricity with the use of on-board technology.
I had the chance to spend a week aboard beautiful San LiMi, sailing across Hvar, Brač and Vis. As soon as I stepped on deck I was handed a complimentary glass water bottle, to make sure we'd waste as little plastic as possible during our stay. Paper straws, environmentally friendly sourced food and drink, eco-cleaning materials and toiletries are also permanent features aboard stunning San LiMi. Because, as Sasha says, "the biggest and most obvious impact has been made by the reduction of the plastics and increased levels of awareness generally."
"There is no reason for anything to go into the sea apart from the wastewater," she continues. "There is no need to use disposable plastics and plastic bottled water either, these are increasingly rare on superyachts. Water makers are more and more sophisticated and are not only used for wastewater but also for drinking water."
Catamaran Marla
Individual crews also yield incredible power in making a difference. True sustainability efforts must start with people, and as seagoinggreen.org reports, it's "down to the power of the yacht crew to make changes to daily operations." High Point Yachting crews understand this more than anyone. Captain Martonio Paleka of Catamaran Marla knows the importance of preserving our planet, and is keen to run conscious charters and initiatives. He regularly sets up beach cleanups with his guests and stops whenever possible during Marla's sailing trips, to collect any floating trash. "In the end the sea will give it all back to us one way or another," he says.
Catamaran Mala is a completely self-sufficient boat with solar panels and a water-maker. Solar panels reduce the need for generators, and fans can easily replace air conditioning systems, while plastic use is kept at a bare minimum and only considered when there are no alternatives. "Even when we have no other choice, we always recycle," says Sanja, who's part of Catamaran Mala's crew. "We love being part of a positive movement in the fight against unnecessary plastic, and so far we have not come across any guests who do not support the plastic-reduction policy."
With a large majority of global travellers – around 81% according to Booking.com's Sustainable Travel Report– saying that they want to travel sustainably, this hardly comes at a shock. But it definitely is a nice surprise to see that the yachting industry, too, is changing with the times and making it easier for people to combine great luxury with much needed sustainability.