In March 2019, we had our first HPYF sailing event in the Caribbean! This first edition took place in the BVI, starting and ending in Tortola, 2 – 9 March, and it was a great success!
We sailed  out of Scrub Island and spent five days around the British Virgin Islands, racing during the days and mooring/anchoring in different places each evening. Our overnight destinations were  beautiful bays on islands Joost Van Dyke, Virgin Gorda, Norman Island, Peter Island and Tortola. Our itinerary included daily racing as well as socialising, swimming, snorkelling, diving and our favourite gourmet evenings!
Please view our: HPYF 2019 BVI LOGBOOK and the SOUVENIR LOGBOOK HPYF BVI (created by John), with all the information about the itinerary, racing and events.
A big thank you to our sponsors, the BVI GIN and the BVI Tourist Board for supporting our first sailing event in the Caribbean!
The fleet consisted of sailing catamarans only. Congratulations to Martin Suter and his team, the overall winners of HPYF 2019 sailing event!Great performance!

A big thank you to tall teams for providing the most delicious dishes for the Thursday Gourmet Roux night. Bela's GULASH won the first prize!
HPYF fleet, Caribbean, March 2019:
No 1: Catamaran OCEAN SUN, Skipper: Martin Suter
No 2: Catamaran PANUI, Skipper: Vilmos Thomazy
No 3: Catamaran RENDEZVOUS, Skipper: Steven Visser
No 4: Catamaran APRES SAIL, Skipper: John Hall Hall
No 5: Catamaran FIN & TONIC, Skipper: Lutz Weise
No 5: Catamaran JELLY BLU, Skipper Bertil Agell
ITINERARY:
2nd March 2019 – Check-in Scrub Island Marina and Welcome Party at the BVI Gin distillery in Tortola, from 5.30pm
Day 1 (3rd March) – Scrub island to Leverick Bay Marina, Virgin Gorda (via the Dogs)
Day 2 (4th March) – Laverick Bay Marina to Anegada
Day 3 (5th March) – Anegada to Scrub Island
Day 4 (6th March) – Scrub Island to Great Harbour (afternoon in White Bay), Jost van Dyke
Day 5 (7th March) – Jost van Dyke to Kelly's Cove, Norman Island (Gourmet night!)
Day 6 (8th March) – Norman Island to Virgin Gorda (via the Baths) for the Prize Giving at Coco Maya
Day 7, 9th March 2019 – Disembarkation in the Scrub Island Marina.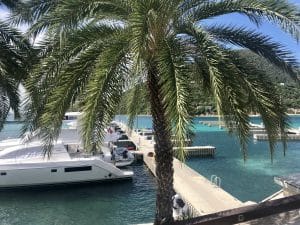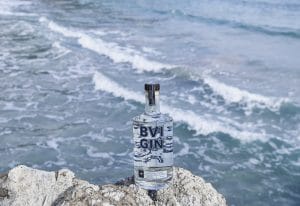 Scrub Island Marina                                                 BVI GIN, sponsor of HPYF Caribbean sailing event 2019!
Dougie, catamaran APRES SAIL:
'I'm sitting in my house in Scotland, zero degrees and snowing outside, looking at the dropbox photos. It seems like the dream I had with all of you in it has come back to reality. It was a huge privilege to be taking part in High Point 'pirates of the Caribbeanz', in such a stunning place, with all you lovely people. I have to convince myself that it was reality, that this is the dream and I'll wake up from it when I see you all in September in Sardinia.' 
Vilmos, catamaran PANUI:
'Hi, John, hi, Sasha
Thank you very much for the Souvenir! You are amazingly prolific as well as efficient! I also would like to thank you and Sasha for organizing the event, for the superb job you two did in making the regatta so pleasurable and easy for the rest of us, and for letting us come. Once I get around to uploading them I will send you a link to photos and video footage I took during the trip.
Best regards, Vilmos'
Di and Martin, catamaran OCEAN SUN:
'Hi Sasha
Wow thank you. That is a lovely pic. We so enjoyed ourselves in the BVI. It is truly a wonderful location. It was great to be part of the High Point family again. We are always with you in spirit. Thank you once again for giving us the opportunity to sail in that magical place and for bringing the family together again.  Any thoughts on next year ? Di and Martin x x x x' 
Kim, catamaran RANDEZVOUS:
'John, Thanks for this. It is a good idea and nice of you to pull it together. Had a great time and was glad we could help the BVI economy. Sailing was a lot of fun even though we kept losing our main. See you in Sept. Kim'