HPYF 2017 in Trogir was spectacular! For many, this is the favourite sailing area. It has it all: great boats, beautiful islands, charming ports, clear sea
and good sailing conditions in September. Please read below the feedback from our skippers…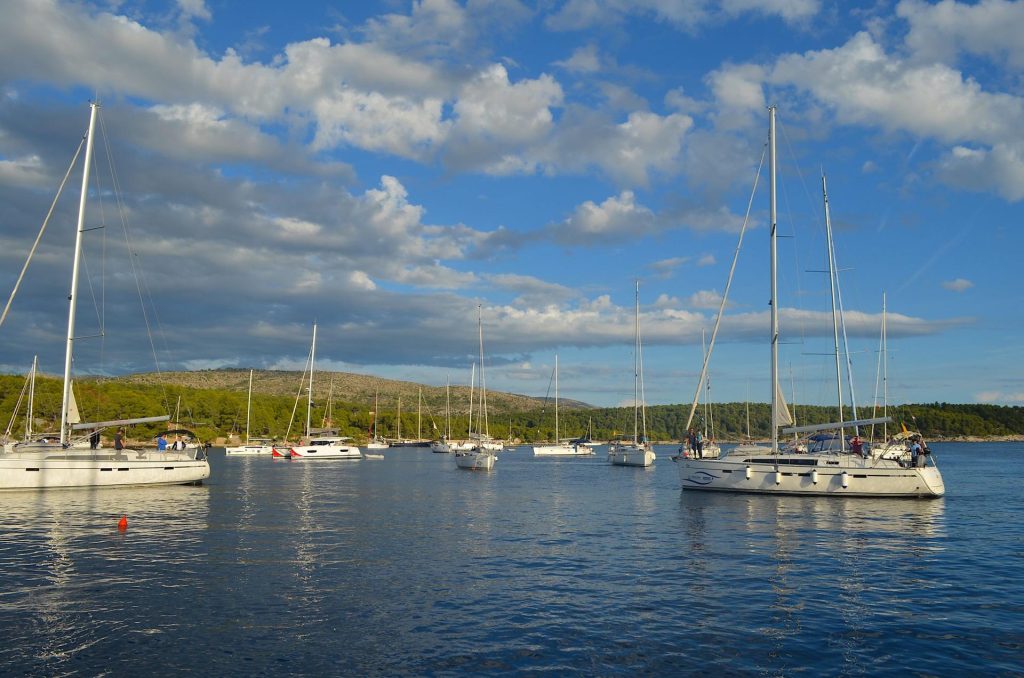 Congratulations to Dave Brewster and his crew for winning HPYF 2017!! You guys were flying! Great performance!
The weather was only slightly challenging, but it allowed for some fantastic sailing every day. We managed to follow the exact route as set originally,
covering Central Dalmatian islands:
Sunday – Trogir to Lucice, island Brac
Monday – Brac to Vis
Tuesday – Vis to Palmizana
Wednesday – Palmizana to Starigrad (island Hvar)
Thursday – Krknjasi anchorage for the Roux Gourmet night.
Friday – Trogir for Prizegiving
Saturday mooring disembarkation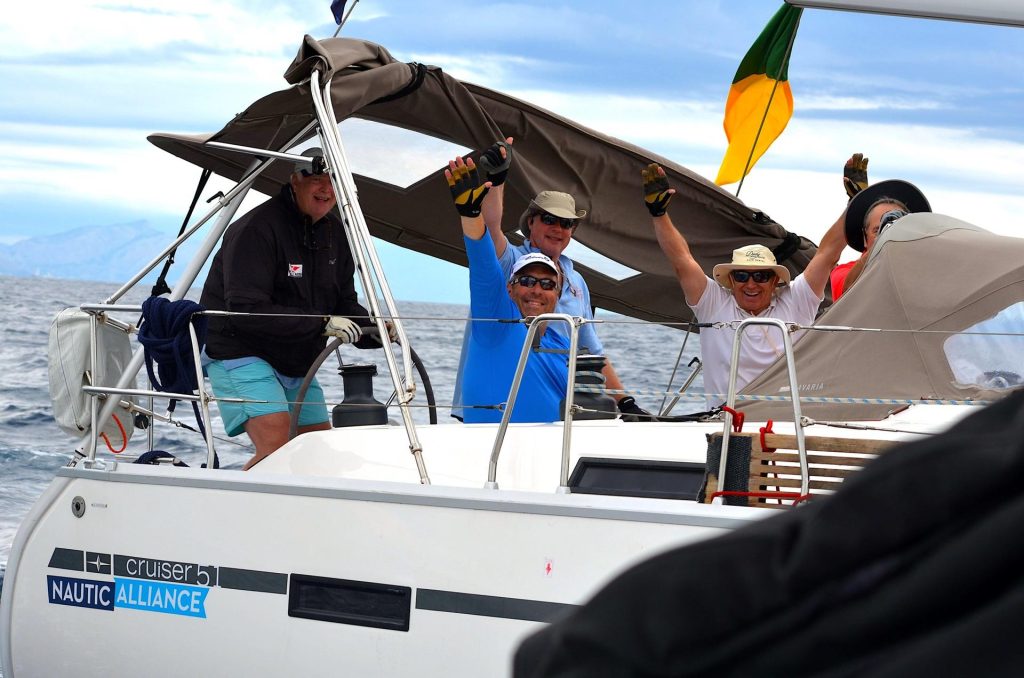 Link: HPYF 2017 LOGBOOK
HPYF 2017 was a great reunion full of fun, laughter, delicious food and excellent sailing. We are very lucky to have this!
Thank you everyone for your continuing enthusiasm and support in every way. It is a great pleasure organising this event for you. I feel particularly
lucky to have John as my partner on this. It is the team work that makes this event complete and such fun to organise. I would also like to thank my
colleague Eva for working with you on the charter arrangements, Martine for her great art work and Dave for his support with the organisation on
the ground!
Congratulation to our Dave for producing the most delicious meal for the Gourmet Roux night! And a big thank you to everyone else too as there
were some first class dishes out there. The gourmet night is such a wonderful highlight of our event.
Congratulations and a huge cheer to the Vampires! My nephew properly screamed yesterday when he saw Shivaun! You guys looked fantastic!!!
…. and the barnacles prize went to us …. :-(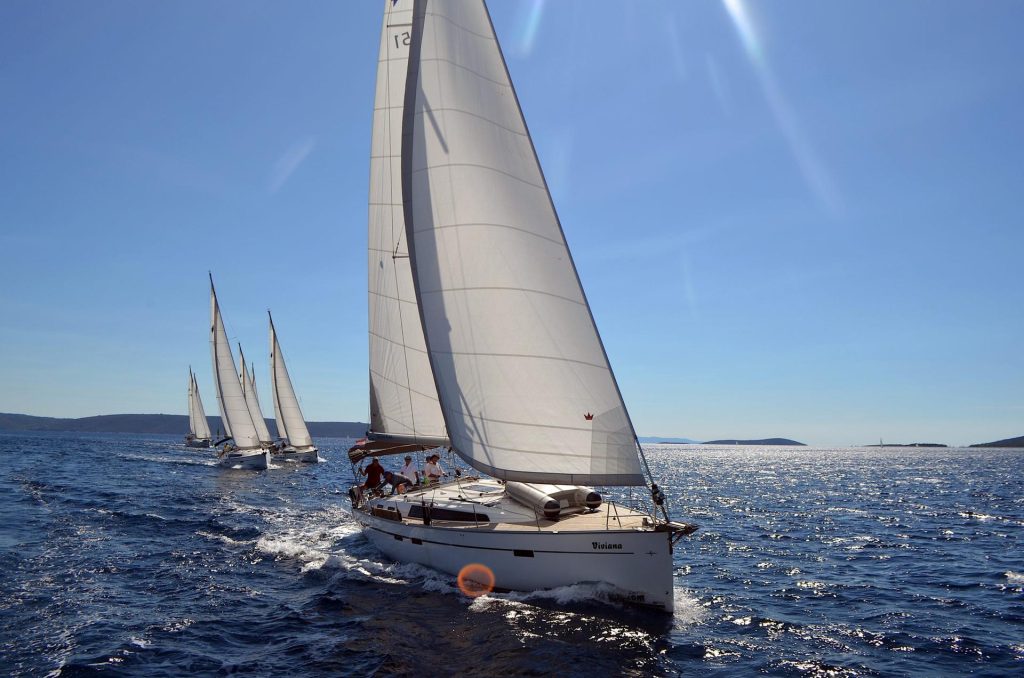 WHERE TO GO NEXT?
BVI has come up in many conversations this week. But I think this might be a long shot… When choosing within the Med, it feels like an equal
opportunity for all involved. With the BVI, it does not feel like that. So perhaps this will not be an option for HPYF 2018 at least. However, this
has lead to another conversation about potentially doing a second event next year, in the BVI (out of the hurricane season… ). Just out of interest,
please let me know if you'd
be interested in doing two HPYFs?
Gocek, Turkey, which is where we started and it remains one of the favourite HPYF places. Would you commit to this area this much in advance?
Ionian – explore the new area. Although, the number of right size boats seems to be a potential issue.
Back to Sardinia?
Looking forward to seeing you all next year!
All the best, Sasha
Please check the link below for more information on the High Point Yacht Fest event and other past and current events too:
HPYF regatta, 16-23 September 2017, Croatia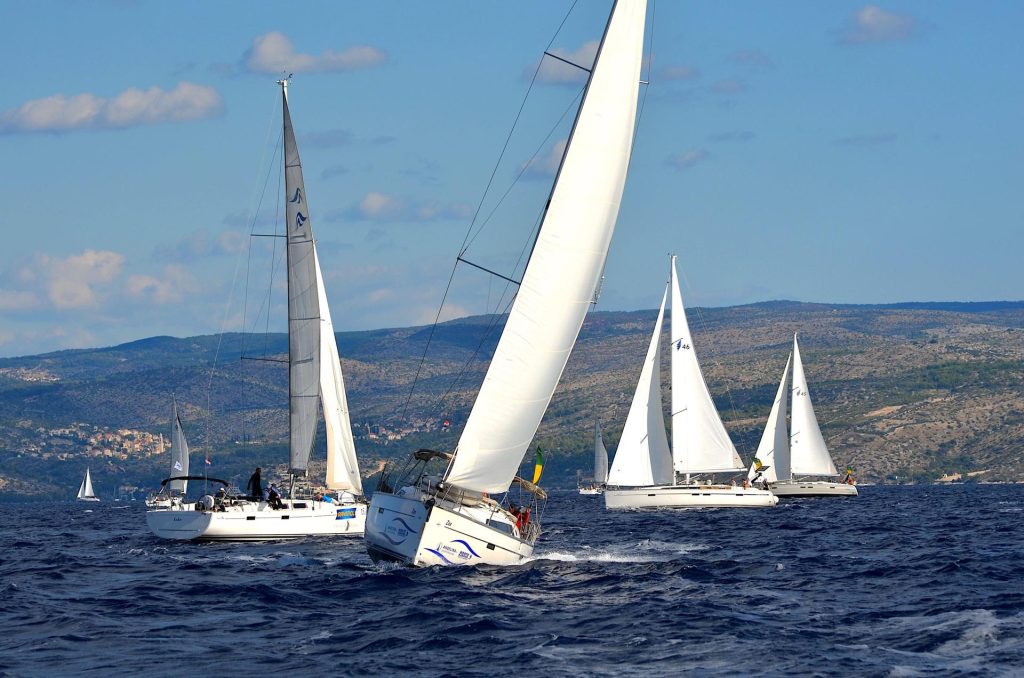 Skipper Dave Brewster, 'LEONARDO 3' the Winning Team!
Hi Sasha… You know Gocek is my favourite. As for Sardinia it's beautiful but I have never yet had 6 races there, weather has always intervened. It was a
great week thanks again to you and all on Katrin who worked to make it happen.
Skipper John Yates, 'GOOD LIFE'
Hi Sasha
The sailing was magnificent and I loved it, the only minor point here being the finishes, which seemed to be rather more random than necessary. I hope
John's proposal to radio in the surrounding boats may solve this.
The cultural highlights were indeed that – the trip out on Vis (I've never towed 7 vampires before and never eaten such tasty octopus) and Stari Grad were
real high points.
The final party was lovely, I enjoyed the food.
Any minor gripes pale however into insignificance against the general brilliance of the whole thing. It is a regular delight to sail alongside such a group,
where friendship and good humour take precedence over the need to win at all costs. The balance of sailing to "free" time and the reactions to wind and
weather were superbly judged to give, for me, the absolute optimum possible week of fun. Optimise the details by all means, but please don't change too
much.
I will be doing everything in my power to be there – wherever there may be – next year.
Cheers
nhoJ
Dougie from Bavaria 51C 'KATRIN'
Hi Sasha
our greatest shame wasn't the barnacle prize but the fact that we left so many beers on the boat when we left, must try harder next year.
Gocek is my favourite place, after Trogir of course but I'm happy to try new places although BVI might be too far and too expensive for just a week.
Sicily was stunning, having dinner on board while anchored at Stromboli, watching the head torches of climbers descending in the dark as spits of lava
flew into the night sky.
Thank you Sasha for your hard work in organizing everything.
Thank you John, your calm relaxed manner as you helm, trim the sails, navigate with your iPhone, decide on starts and finishes, organize berthing while
answering calls from the rest of the fleet and all simultaneously and usually with only a few hours sleep. You made it look easy and I know it isn't.
Thank you Philip and Evert for the best party of the week, good enough for me to have little recollection of it and thank you for your blessing in 'Jumping Ship'.
All the rest of you too, I look forward to sailing with you again and maybe meeting up in London around Christmas.
regards
Dougie
Skipper Carolyn Krijsne Locker, 'MIRKA'
Good morning all and hi Sasha,
Again many thanks to you, John and the HPYF crew for the very good organized party week with the 'family' again. And thank you to the HPYF family, we
will miss you till upcoming event. We loved the week a lot again.
Met vriendelijke groet, Caro
Skipper Denis O'Brien, 'ILONA'
Sasha,
We'll give a more detailed feedback to you and John but shared observation is that our crew have really appreciated the ongoing and significant effort that
you put in every day. We have the sense that you are always striving for perfection on our behalf and that more often than not you nail it.  So our shared
feedback is to please please continue to put in the selfless effort that you put in…. Thanks also to all the 'regulars'.  We feel privileged to be allowed out to
play with you every September and hope that we also get to raise a glass with the like of Diane, Martin, David, Angela, Keith, and their crews next year.
Shukran!
Skipper Philip Young, 'ZOE'
Sasha, John, Dougie, all,
'the Young ones' of Zoe add out thanks to  Sasha and John and crew for in making High Point such a great event each year and 2017 was no exception.
And thanks to all the skippers and crews for keen racing and pre/après-race bonhomie.
We missed Dougie of course, but our loss was the rabbit's gain although this year we weren't watching it disappear into the distance! Fenella was unavoidably
detained elsewhere but James made an excellent replacement and our best result was when he was on the helm. Evert was our key man again, Irina is learning
fast and remarkably powerful on the winches; Cookie is always good to have on board and has a popular sideline in cooked breakfasts.
We wait to hear the final decision on next year's venue.
Best wishes
Philip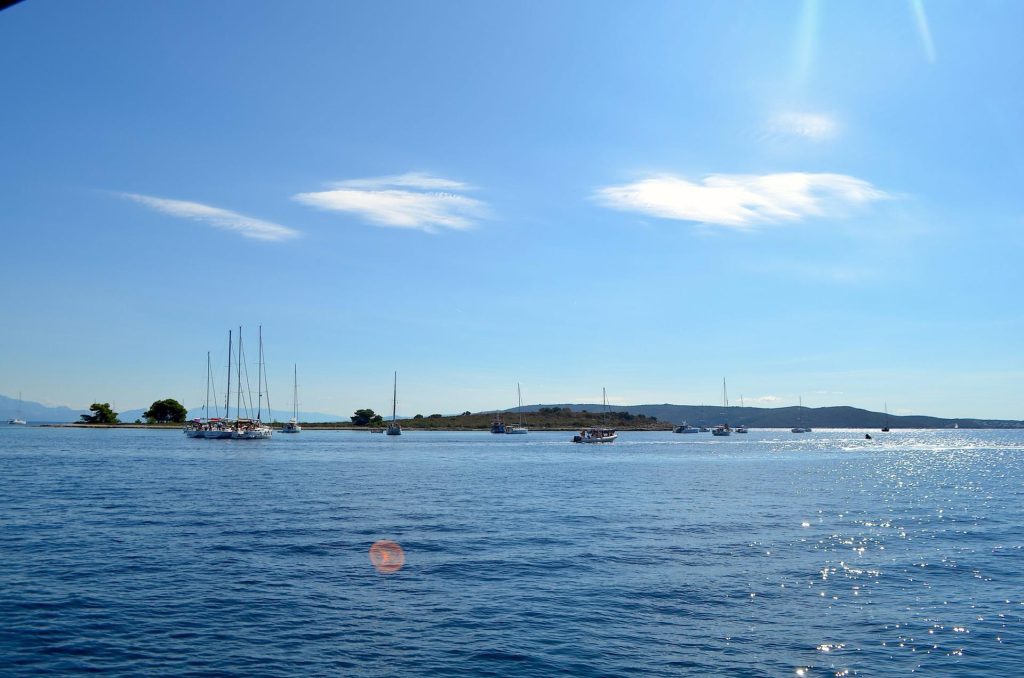 Check our previous Yacht Fest (HPYF 2016) here.