Cyclades – Destination Highlights
The Cyclades are perfect for island hoping, they are an ideal sailing ground. They consist of a lot of diverse islands with differing cultures and landscapes. When thinking about the Cyclades, what comes to mind first are: white-washed cuboid houses, with bright blue shutters, domes church and the odd windmill. But there is a lot more to this area. There are popular islands such as Mykonos, Santorini and Ios, all beautiful and vibrant. Then there are Sifnos, Naxos, Paros, Milos, Sifnos, Polyegos, ideal for out of the main season periods, perfect for foodies, art lovers, admirers of beautiful landscapes. The rest are lesser known islands, some more popular with the Greek tourists, some always quieter, offering different landscape and attractions. Below is one of our area presentations with the places we recommend visiting.
ATHENS
Where to start when describing the capital city of Greece and all it has to offer? This bustling city has so much to see and do that each neighbourhood has its own unique attractions and character. Explore the cafes you can't miss in Exarchia, the vibrant nightlife in Gazi and the coolest shopping in Koukaki. 
Often referred to as the birthplace of democracy, arts, science and philosophy of western civilisation, Athens is a historian's dream.  Home of Plato, Socrates, Pericles, Euripides, Sophocles, Aeschylus, Athens is one of the world's oldest cities. It's recorded history spanning around 3,400 years. The large selection of Ancient Greek ruins are a must see when visiting. Athens is home to many museums and art galleries, the National Archaeological Museum, for example, has the largest collection of ancient Greek art in the entire country. 
Athens is not just for history lovers; it also has several squares such as Monastiraki Square where you will also find a large shopping street to enjoy. Ever heard of tzaziki? What about taramosalata? You'll find these and so much more in the city's endless selection of restaurants.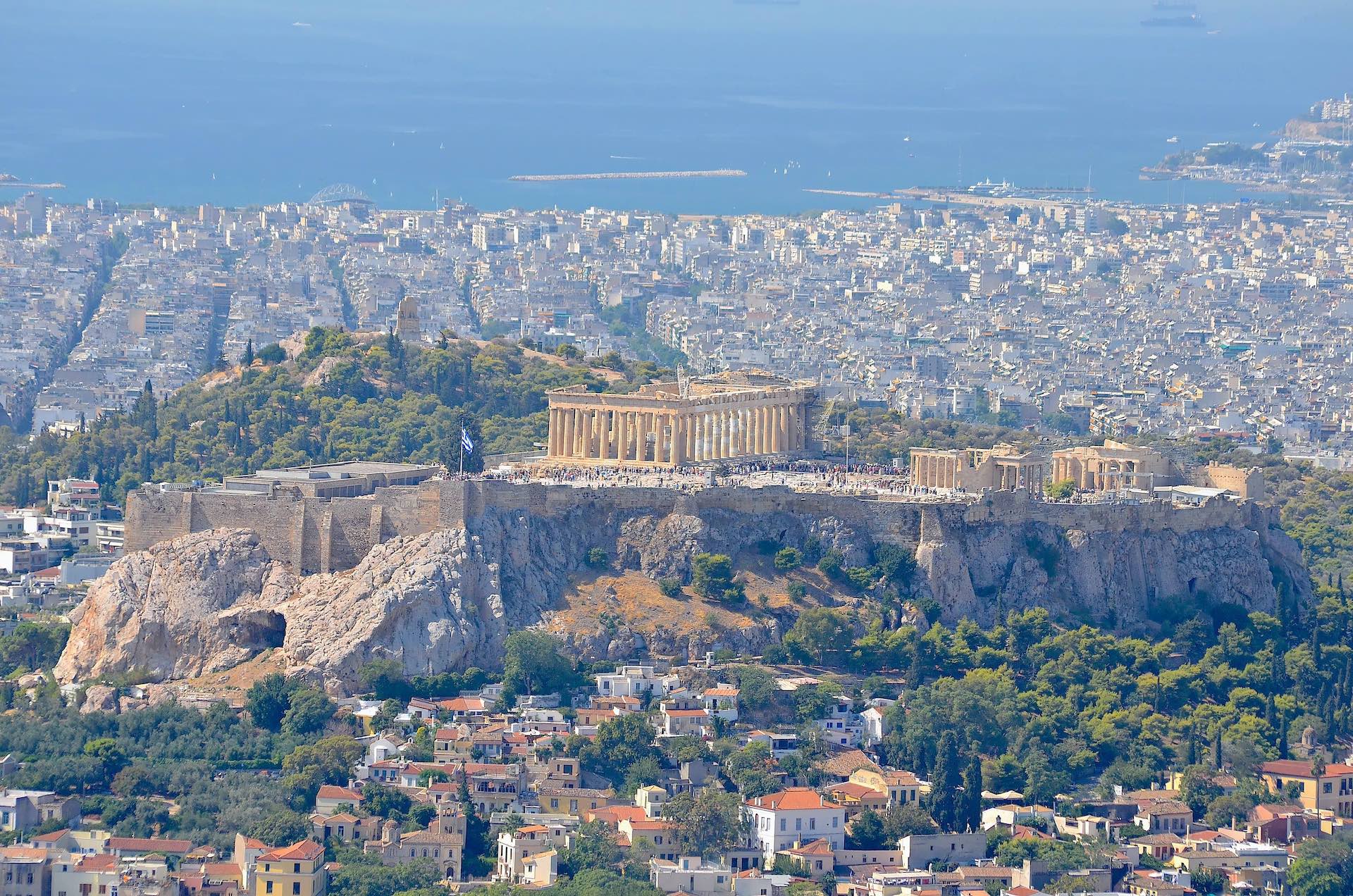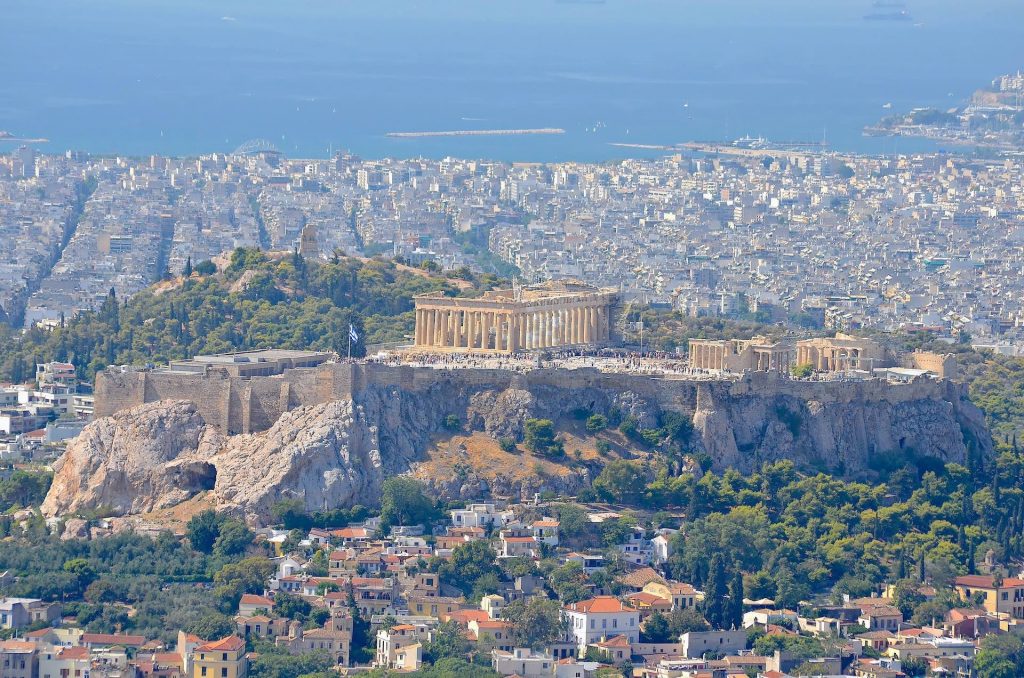 KEA
Kea or Tzia is considered the 'gate' to the Cyclades. The island was named after Ceos, a hero from Nafpaktos who settled on the island in the 12th century BC. Later during the Venetian occupation, it was renamed Tzia.
Despite being part of the Cyclades, Kae stands out from the other islands as you will not see so many white-washed cubic houses or blue-domed churches instead you will fine elegant, neoclassic architecture and earthy colours.
This picturesque island offers natural beauty but also some great little historic spots to visit. Kea played a key part in the flourishing Cyclasic civilization and has been called home by many important figures of ancient Greece, such as the poet Simonides. On the south side of Nikolaos Bay- once a 13th century pirate strong hold – is a small port called Korissia which is definitely worth a visit. From the north-east of Kea town, you can see the famous lion carved from the native rock in the 6th century. This lion is thought to have chased away the island's former inhabitants, the Nymphs.
If you would rather visit shops and cafes, then Vourkari is the place to go. This small bay has traditional taverns and some small shops to enjoy.  For the more adventurous visitor, Kea is a walkers paradise with 36km of walking paths- 65% of them in stone paved paths- taking you through dense forests out to isolated beaches.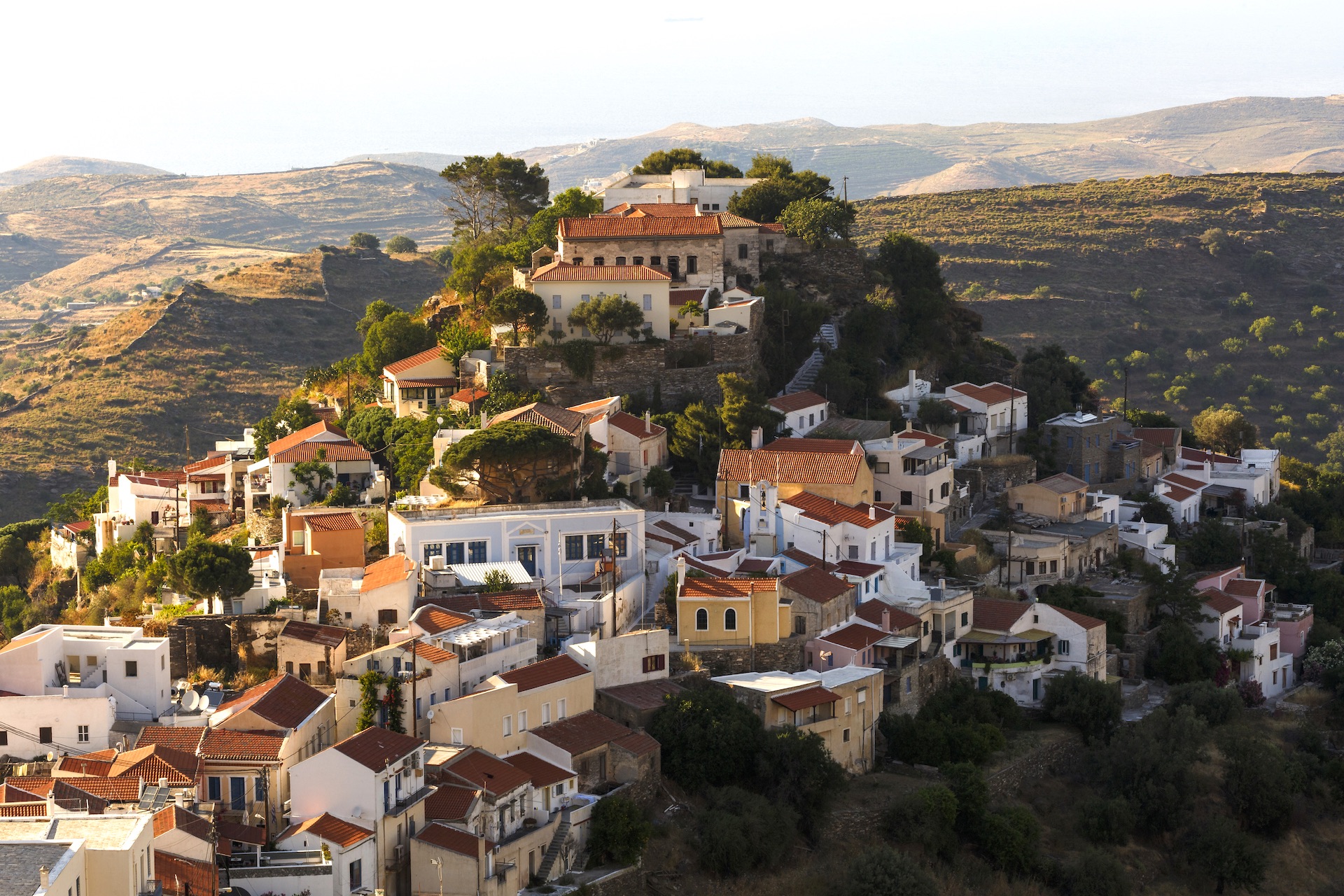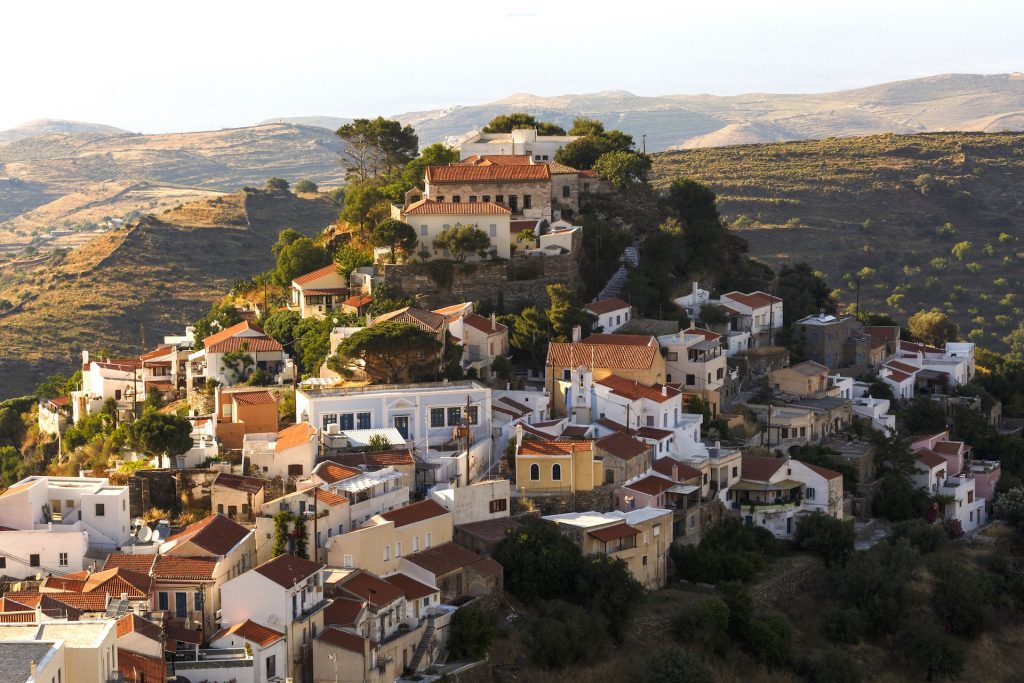 KYTHNOS
Kythnos or Thermaiam (with its warm baths) is an understated beauty- a holiday destination out of the ordinary. Known as approachable, friendly and a joyfully hospitable place to visit, Kythnos is the perfect place for those wanting to step away from their hectic lives and relax whilst also discovering the island's history, geography and culture.
The island is blessed with 65 impressive sandy beaches. The most impressive being Kolóna where a lane of sand connects the beach with the islet of Avios Loukas to Kýthnos. Once you have explored the beaches head inland and follow paths that connect each village together; ensure you take in the narrow-cobbled streets, white houses, village squares and the beautiful chapels and windmills. For a truly unforgettable experience, walk to the Katafýki cave, tasting apricots and wild mulberries on your way, and explore one of Greece's biggest caves with its stalactites and stalagmites!
No one can visit Kythnos and not take a dip in the island's famous hot springs- the only hot springs in the Cyclades. The thermal springs are located in the village Loutra that owes its existence to the springs. Two hot springs can be found there: Agioi Anargyroi, which is located indoors in the area of the spa, and the outdoor spring of Kakavos.
To really get to know the true Kythnos, we suggest getting to know the locals. The welcoming 1,500 inhabitants on Kythnos have a fantastic culture which they love to share with visitors. They have year-round festivals, the most famous being Agia Triads in Apostoli on 28 June in Dryopida and Panagia Kanala and Panagla Nlkous on the 15 August.
This island has a lot to offer those that visit.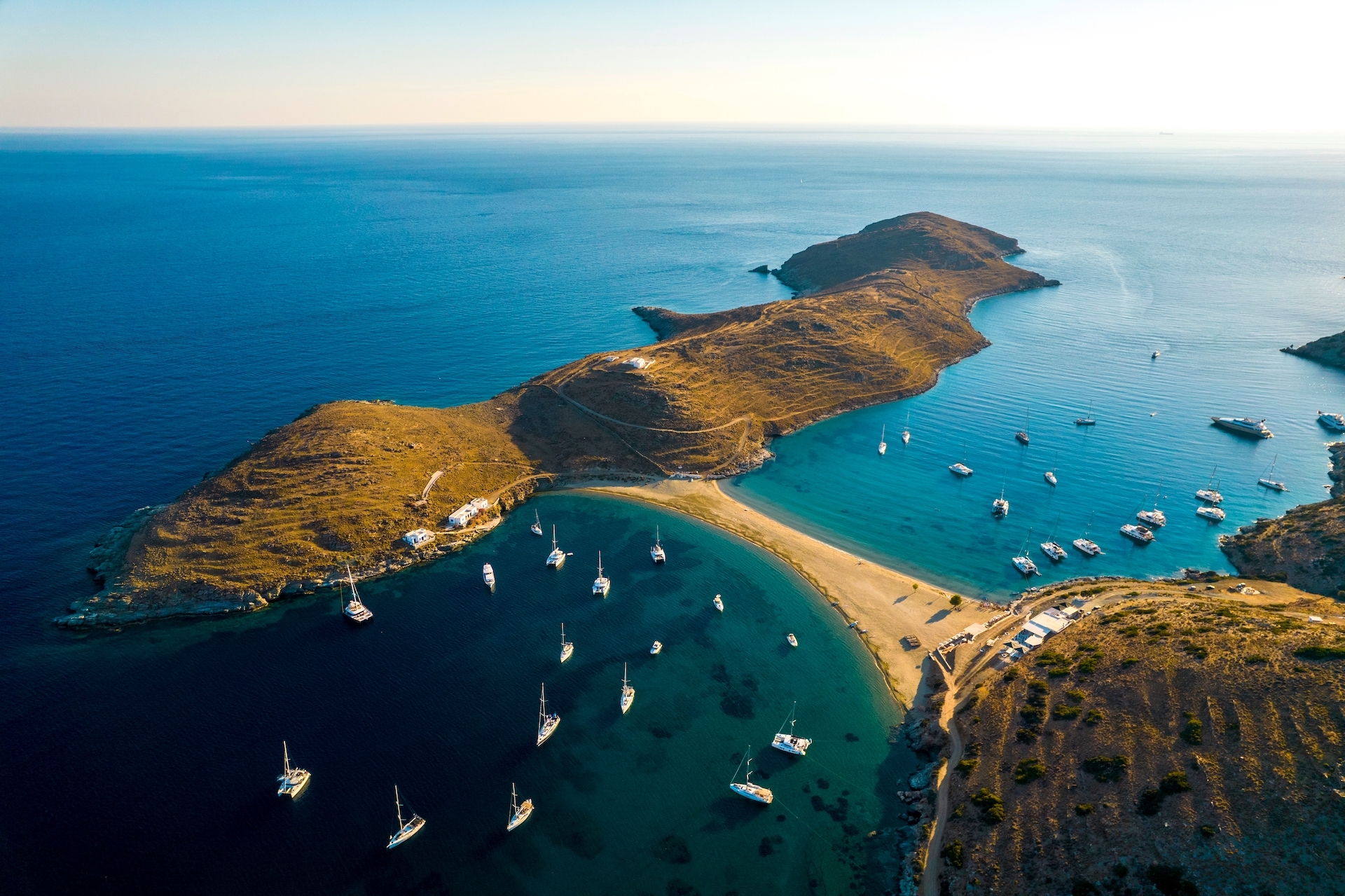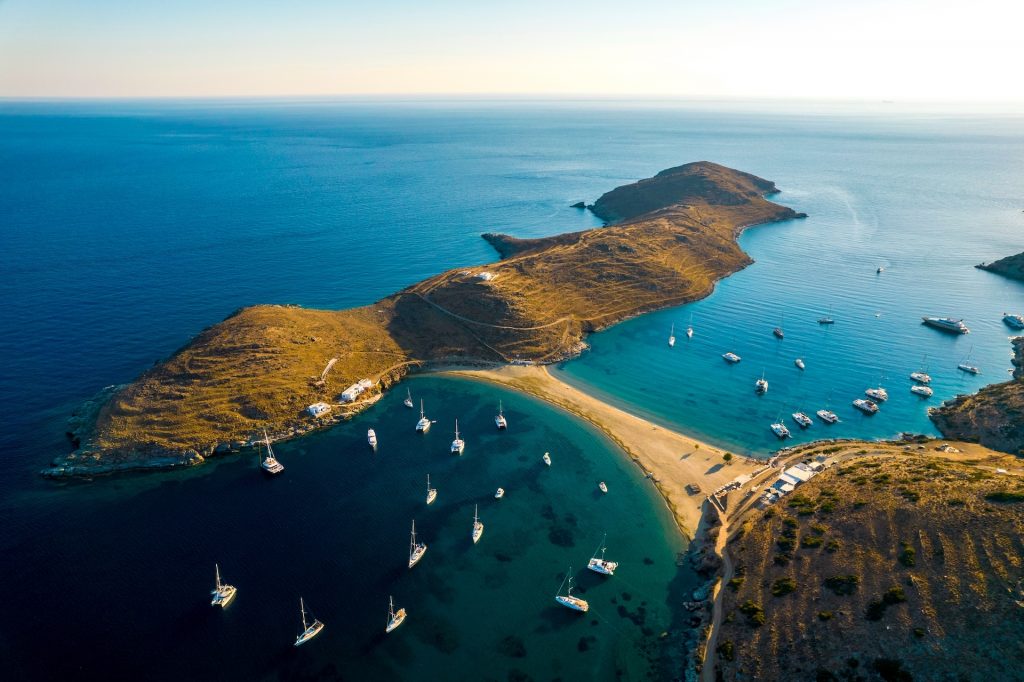 SYROS
Syros is located in the very heart of the Cyclades, 83 nautical miles off the Port of Piraeus and 62 nautical miles off the Port of Rafina.  Syros is the island where visitors can see the western influence mixed alongside Greek tradition! Ermoupoli is the capital of Syros and all islands of the Cyclades. It developed during the War of Independence and soon became a large transit centre between the East and the West. This once trading hub, now boasts neoclassical houses and beautiful squares; Posidonia being a great area to demonstrate this.
Culture comes in abundance on the Island of Sýros. Throughout the year there are internationally acclaimed festivals such as The International Cyclades Music Festival, the Classical Music Festival, the Ermoupólia and the Musical May. There will be something for everyone's musical tastes.
For food lovers, Sýros is well-known for its gastronomic peculiarities! Halva pie (a pie made of thyme honey and roasted almonds), loukoúmi (a delight made of water, starch and sugar), "loosa" ham, fennel sausages and the San Mihalis spicy cheese  are just a few of the delicacies to try during your visit.
Away from the bustling towns, the country offers great cycling routes. Hire bikes and explore the smaller towns and beaches. For more of a thrilling wheeled experience, the northern side of Syros offers jeep tours on the dirt roads. Alternatively enjoy a calming walk- we recommend the northern side of the island as it is full of paths to explore. The great number of beautiful beaches will delight the sea and sand lovers: Vári, Foínikas, Yalissás and Kíni.
Syros really does have it all!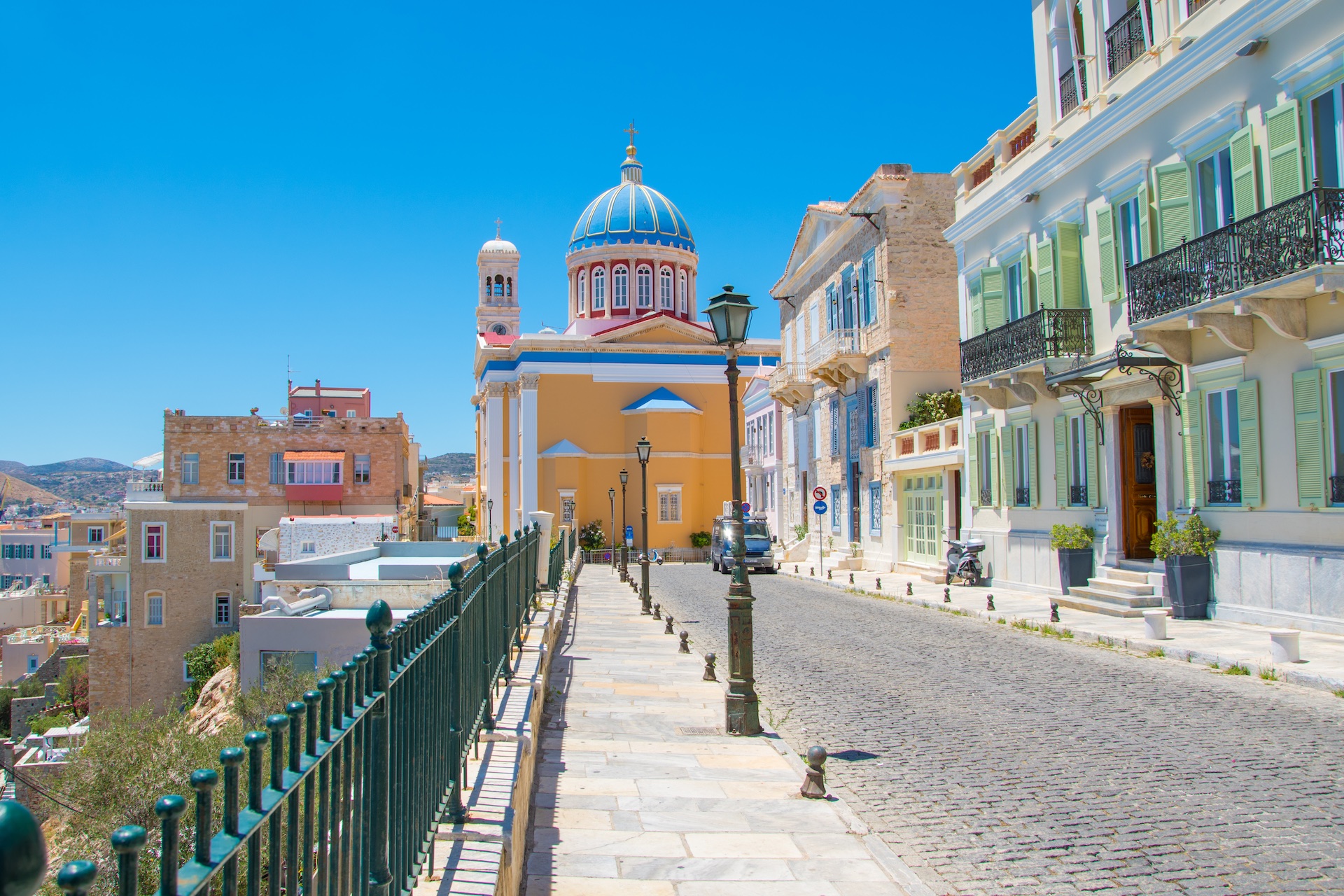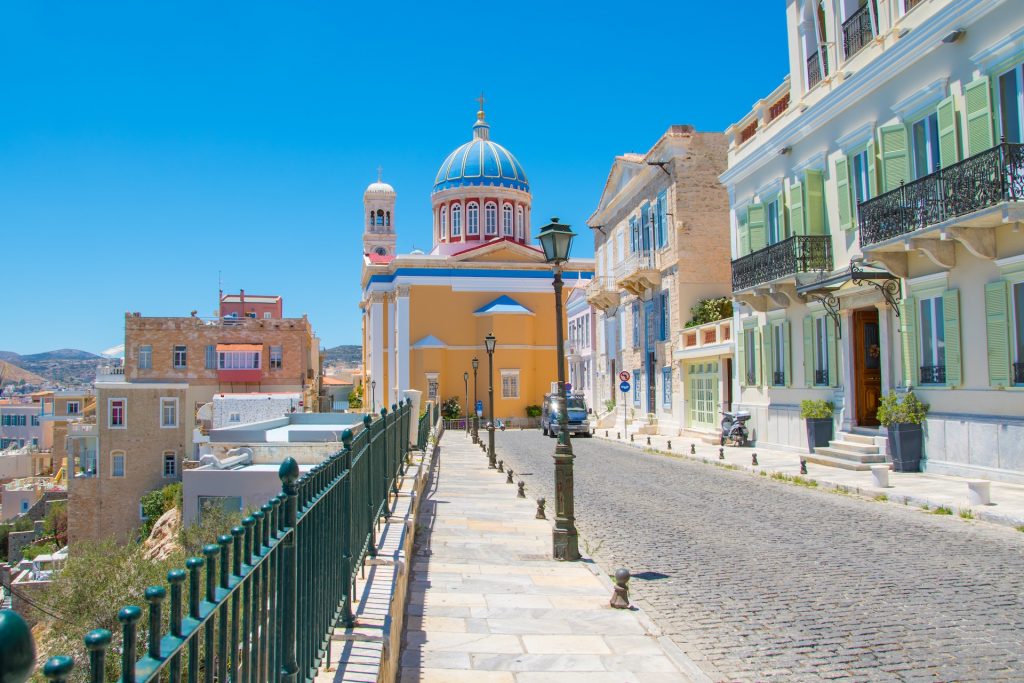 MYKONOS
Mykonos, one of the most popular Cyclades islands, is known as a cosmopolitan and luxurious holiday destination. It's beach bars, clubs, high end shops and art venues draw people in from across the globe. However, Mykonos has another side to show. It is also particularly picturesque, with stone-paved alleys, whitewashed houses, country chapels and windmills, that ooze calm and peace. This variety is what makes Mykonos so special and we are not the only ones who believe this; many famous stars visit or live on the island!
Mykonos has a host of attractions to visit. We recommend that you visit Church Paraportiani, a well-known unique architectural complex of five chapels. This Mykonos icon is located at Chora. There are also plenty of museums to engage any visitor of any age: the Archaeological Museum, the Aegean Maritime Museum and the Folklore Museum are the most well known.
After a busy day exploring Mykonos, enjoy the culinary delights the island has to offer. The Mykonos cuisine includes many varieties of pork dishes (with cabbage or wild greens, smoked pork, sausages) and wonderful recipes for fish and seafood: sea snail casserole or risotto, mackerel with capers, sea urchins in vinaigrette, clams, mussels. To accompany your meal, try a cool soumada, a drink made using almonds. If sea food is your favourite, try to plan your trip to Mykonis so that you don't miss the celebration of Agii Apostoli which coincides with the celebration of fishermen.  This festival is held on the 30th of June  and to celebrate, a large feast is organized on the beach of Chora, where seafood is served.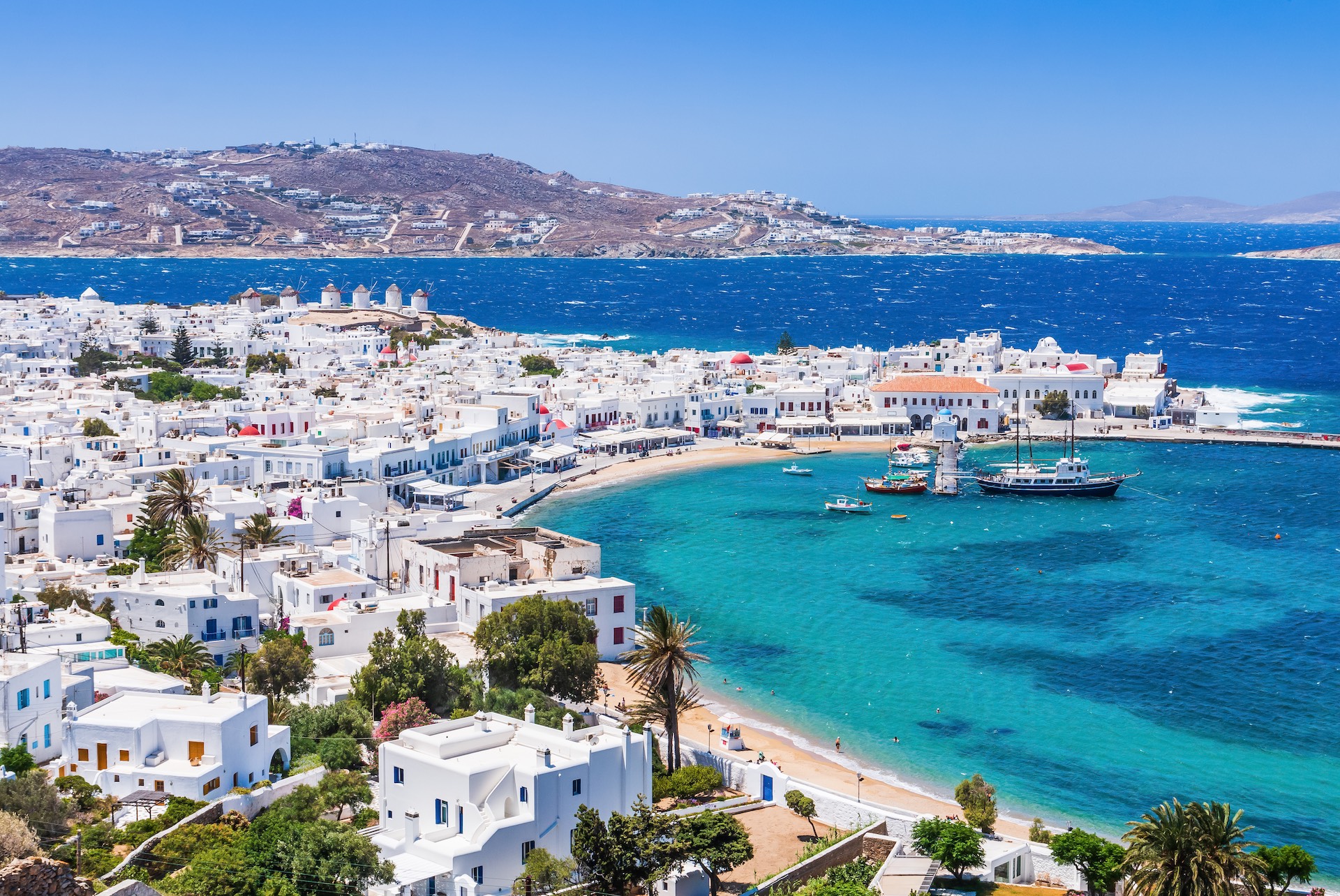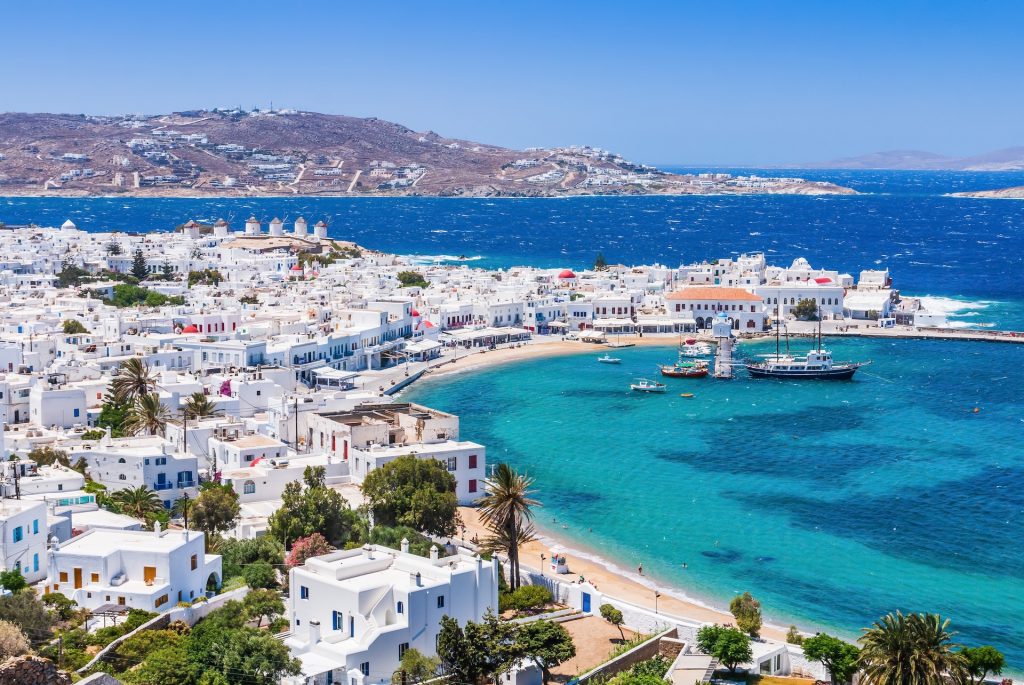 PAROS
Paros is one of the largest and most fertile islands of the Cyclades with valleys, plains and farmland. The island of Paros is famous for its golden beaches, clear blue waters and nightlife. However, it is much more dimensional than that. Rich in natural resources, cultural heritage, unique customs, traditional dishes and famous wine, this island has much to offer anyone that visits.
To explore the island's culture, we recommend a visit to Parikia, the port and capital of the island. Parikia is an area of exceptional religious, archaeological and cultural importance. Once there, you can see the famous church of Panagia Ekantotapyliani (4th century), a magnificent monument to Christianity and one of the most important Early Christian monuments of Greece. In contrast to the bustling town of Parkia, visit the village of Lefkes a beautiful and unspoiled settlement- the only mountain settlement in Paros. Picturesque, calm and amphitheatrically built among lush greenery, it preserves its traditional character. No motor vehicles are allowed which results in a beautifully peaceful visit. From here, you can also follow the byzantine marble path that leads to the medieval village of Prodromos which is about an hours walk away.
For nature lovers, we recommend you seek out the Valley of the Butterflies (Petaloudes)  a lush green habitat  that provides shelter for Tiger moth butterflies. This is open to visitors to try their luck at spotting one.
Finally, no trip to Paros would be complete without trying some of Paros's famous cheeses, and wonderful wines (labeled PDO=Protected Designation of Origin). If your visit coincides with the grape harvest, visitors can join in crushing of grapes and rakidl  whilst also involving themselves in the accompanying festivities.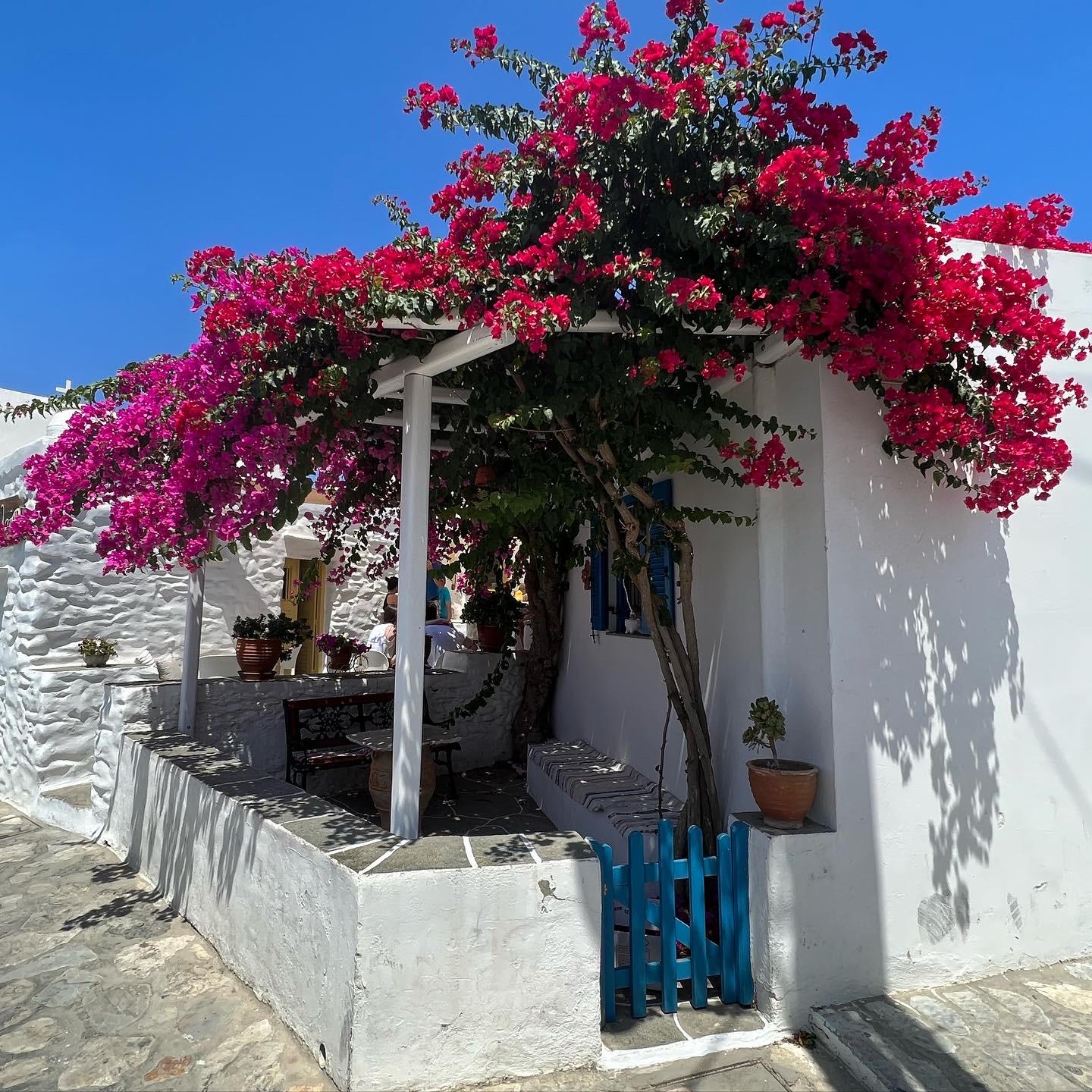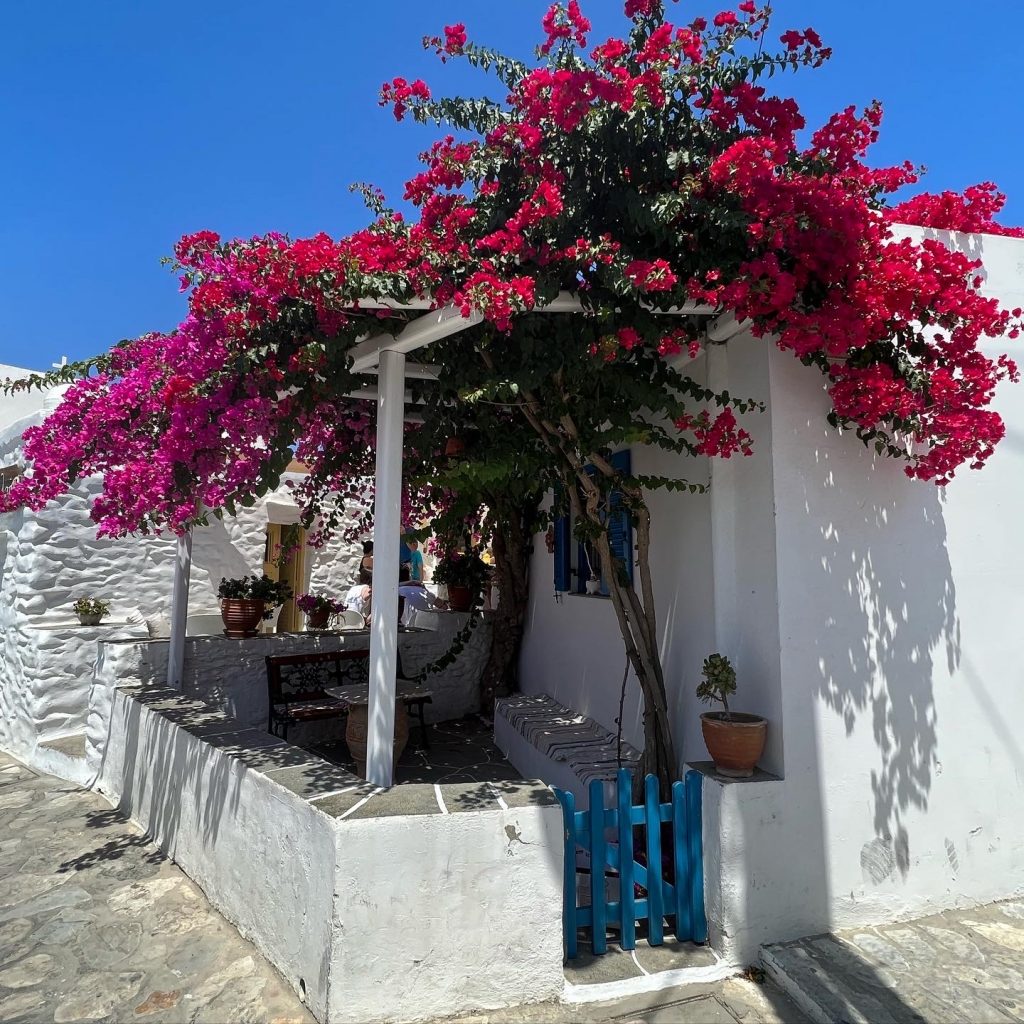 SIFNOS
Beautiful Sifnos, is a barren and remote island in the most southern Cyclades. Everything there feels so simple yet the food is highly sophisticated and the wine is superior. It's a place where bouhainvillea comes in the brightest red and the hottest pink and hangs over the white washed houses and blue shutters. This is a romantic island with a peaceful feel to it. A place where the sunsets are magical and where one wonders the streets in the evening, browsing galleries and shops before settling down for the Sifnos' signature dishes.
Sifnos, the birthplace of many famous chefs such as Tselementes and Markou, offers a wide selection of very tasty dishes, such as the revithokeftedes (chick pea croquettes), ambelofassoula (string beans) with skordalia (garlic paste) and kaparosalata (caper salad).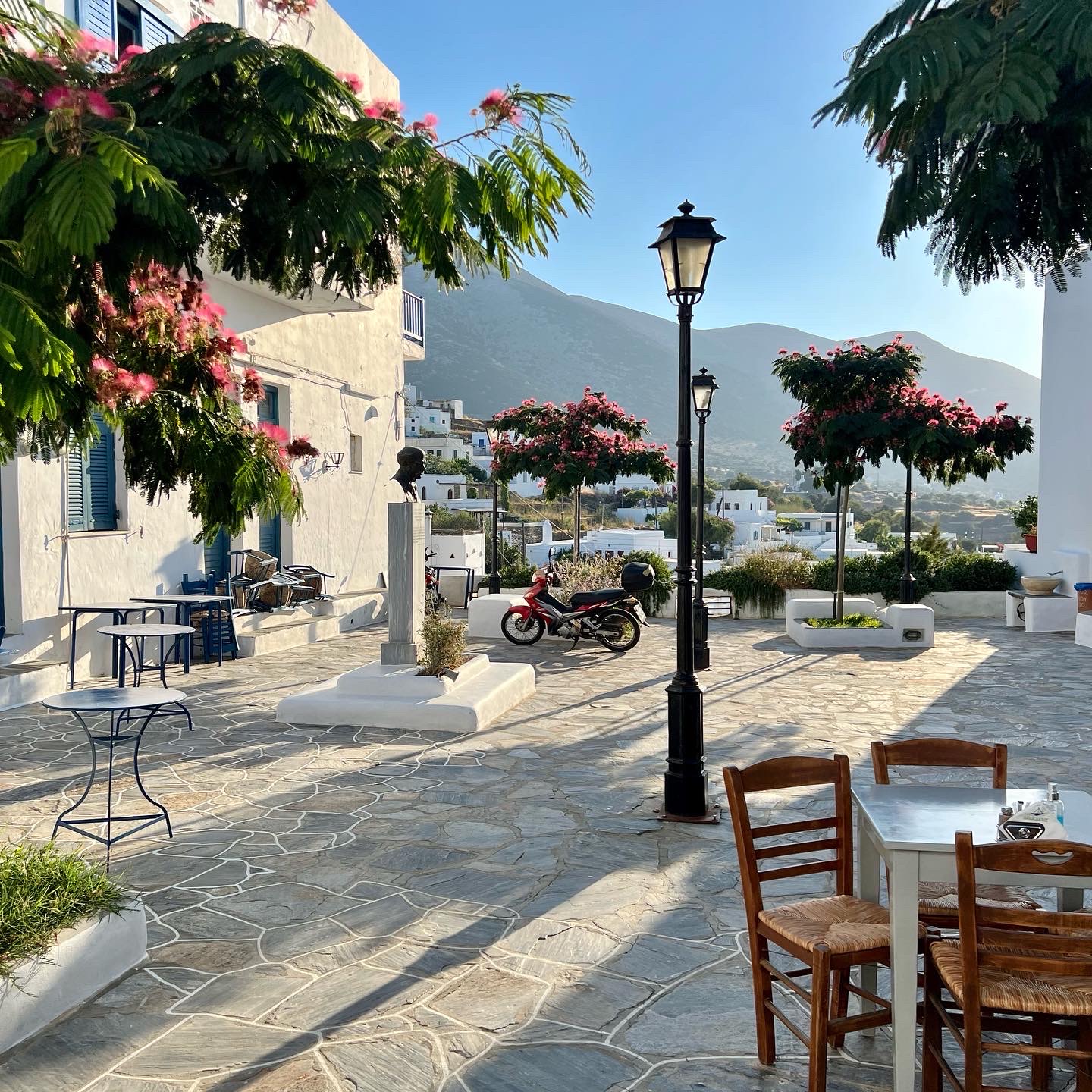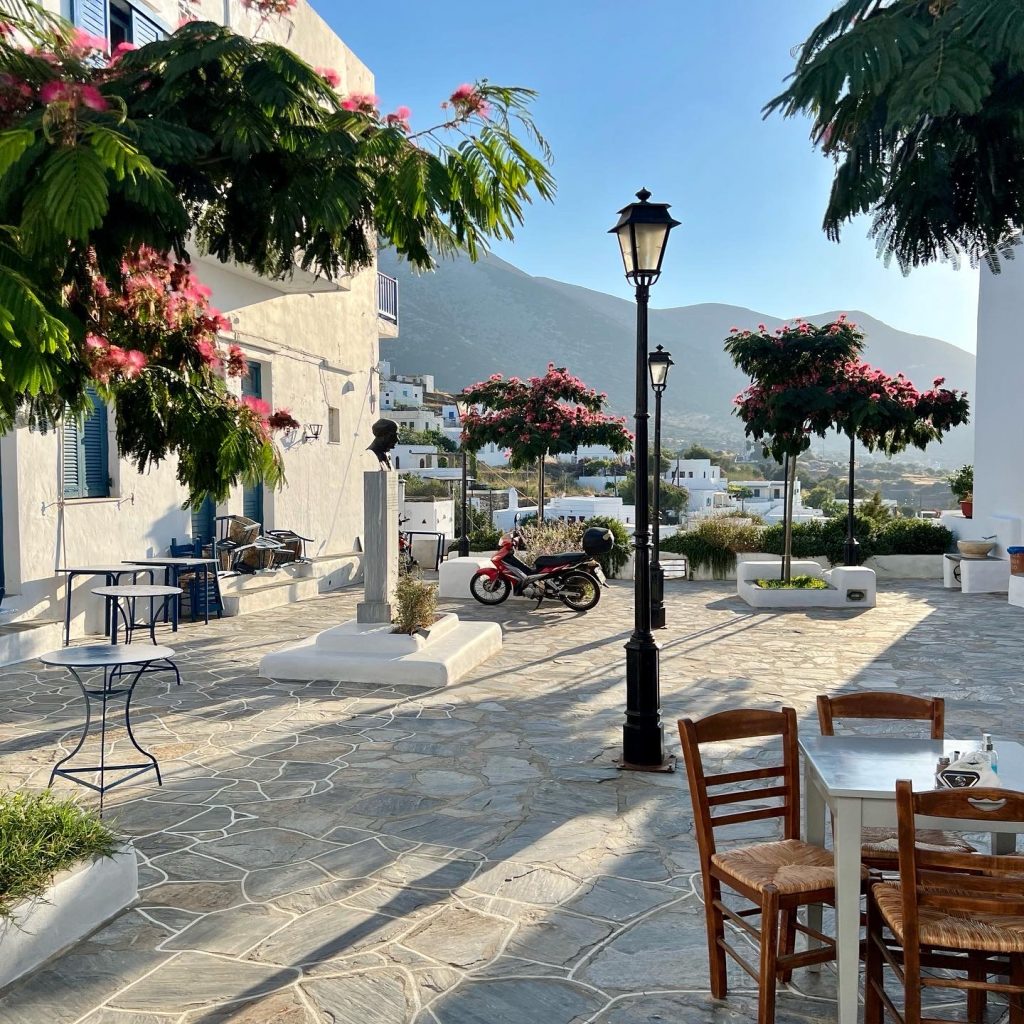 POLYAIGOS
Polyaigos (Polivos) is an exotic paradise. The colours and the feeling it offers are unforgettable! Its remarkableness is mainly due to it being the largest uninhabited island of Greece and one of the largest uninhabited islands in the Mediterranean Sea. This gem of an island is only reachable by private boat.
The island has great geological and ecological importance since it is home to rare or even endangered endemic species. Species such as the Mediterranean seal, adders, lizards, falcons and 32 endemic, rare or even endangered species of plants. For its significant ecological value Polyaigos has been incorporated to the network of Natura.
This natural, mainly undisturbed island offers a host of beautiful beaches. The most famous beaches are located in the bays of Kato and Ano Mersini. One of them is the "Blue Bay" beach which looks a little like an amphitheatre with white rocks around the sea and with deep blue water.
This island is the perfect place to take in Mother natures natural beauty.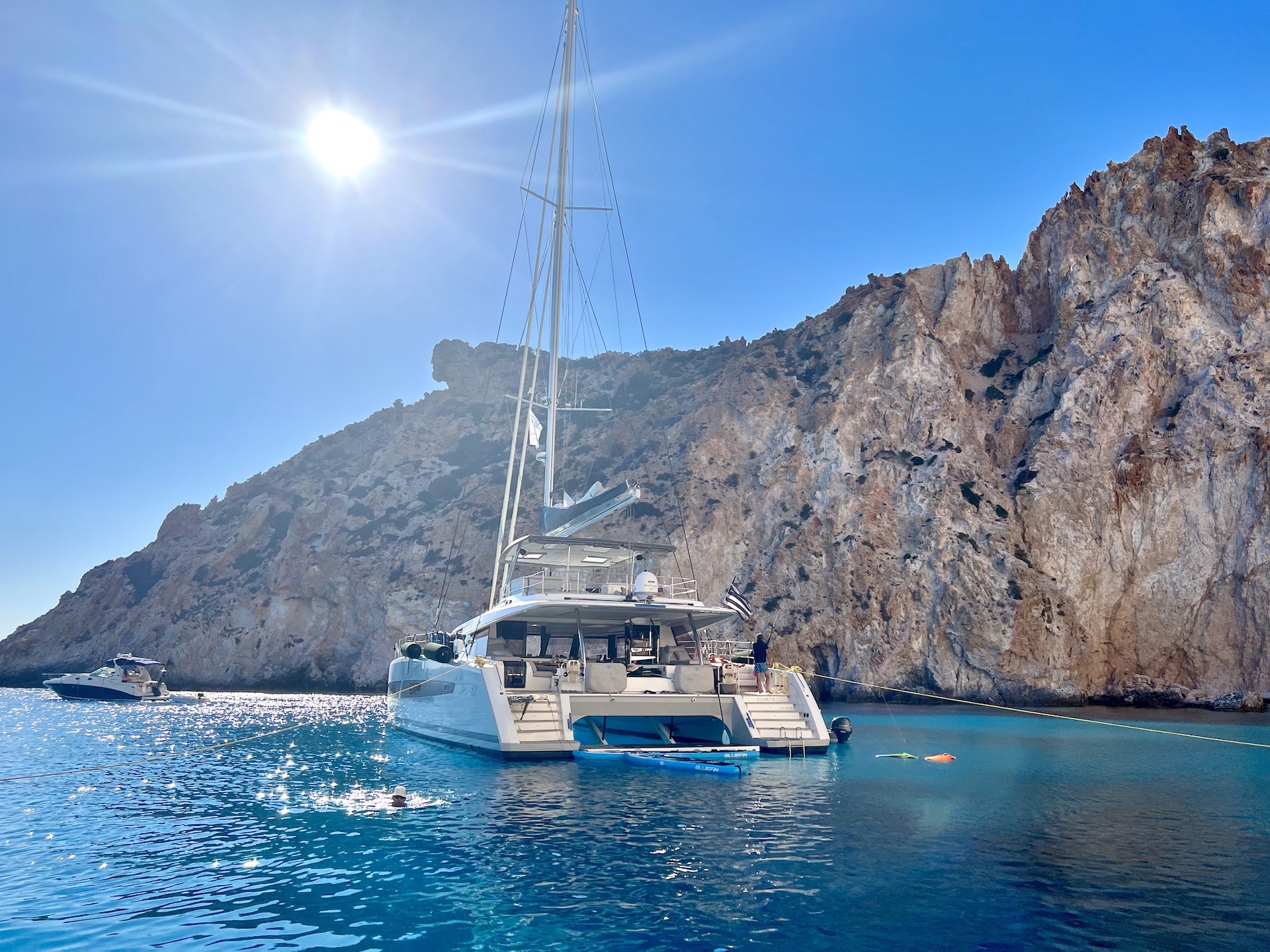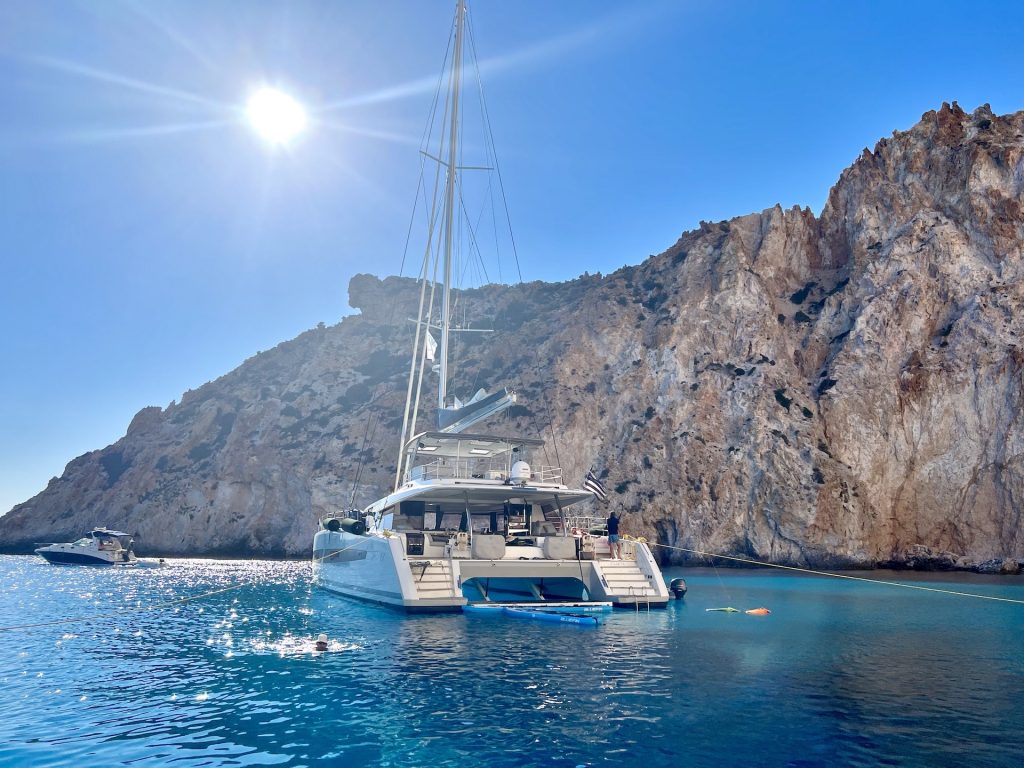 MILOS
Milos is one of a kind! It is a divine Cycladic island with three unique characteristics: the volcano, the catacombs and its distinct fauna! A volcanic island with spectacular geological and rock formations and exceptional beaches with turquoise waters. It has one of the best harbours in the Mediterranean, formed when the sea broke into the crater through a gap on its north-west side. Today these geologic formations are the perfect place for swimming and exploring.
When visiting Milos, one must visit the the Catacombs of Milos. They  are considered to be the most important early Christian monument of worship and burial site in all of Greece. Over 2000 Christians were buried in the catacombs whose tombs were decorated with plants and symbols. This is a must see when visiting.
To discover more of the island's culture and history see out Chivadolimni, a beautiful area whose name was influenced by a lake (limni in greek) whose bottom was covered with clams. This is where the oldest church on the island is located, Panagia Kipou, as well as camping grounds. The beach of Chivadolimni is also ideal for windsurfing.

Finally, Milos' moon-like landscape at Sarakiniko are worth a visit with its white smooth rocks.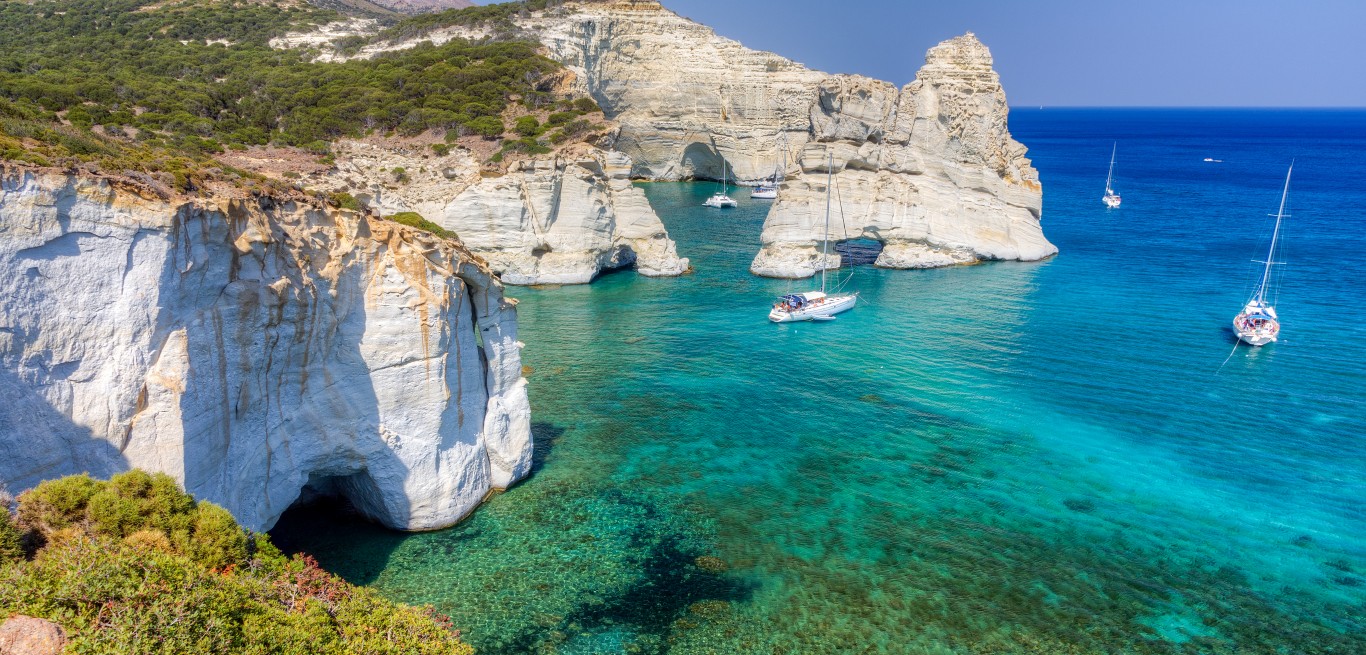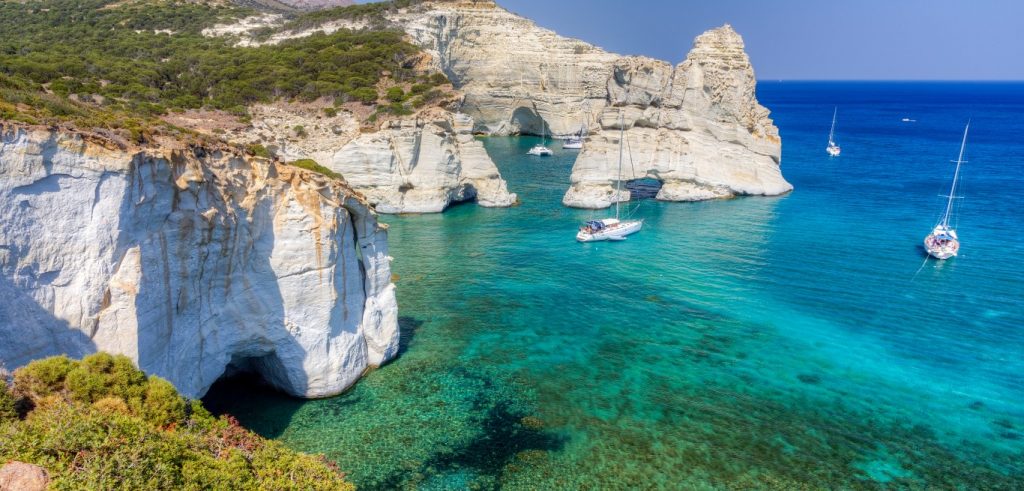 SERIFOS
Serifos Island, with its rugged mining sites, has its own distinct Cycladic flair. With it's arid and wild landscapes, Serifos stands out from its neighbouring islands.
On your travels a visit to the town of Chora is highly recommended. This town has been built onto a rocky hill and can be seen from the docks. There are two parts to this town Pano (meaning upper) Chora and Kato (meaning lower) both connected by a stairway. You'll find some bars, cafés and taverns in the town's narrow streets. It is worth taking a 10 minutes walk up to the Venetian castle, built in the 15th century, to drink in the view of the blue sea!
Livadi , the main port on Serifos, is another great place to explore. Enjoy the nearby cafés, fish tavernas and pastry shops located next to the seashore. This area has a beautiful sandy beach but is also very close to Avlomonas and Livadakiabeaches. Serifos offers sandy, peddly and rocky beaches around the island.
Serifos' cuisine bursts with aromas and flavours! On your vacation here don't miss the delicious meat products such as louzes, syglina (traditional cured pork) and sausages, as well as the islands rich aromatic spices. Taste marathopites and marathotiganites (fennel pies baked or fried), revythada (traditionally cooked chickpeas) with a local variety of raisins, sun-dried octopus, local cheeses such as myzithres and xinomyzithres. Make sure to accompany your meal with the island's local wines.
Apart from having a laid back and relaxed holiday, you you also have the option of being active and enjoying sports such as hiking, climbing, mountain biking and diving!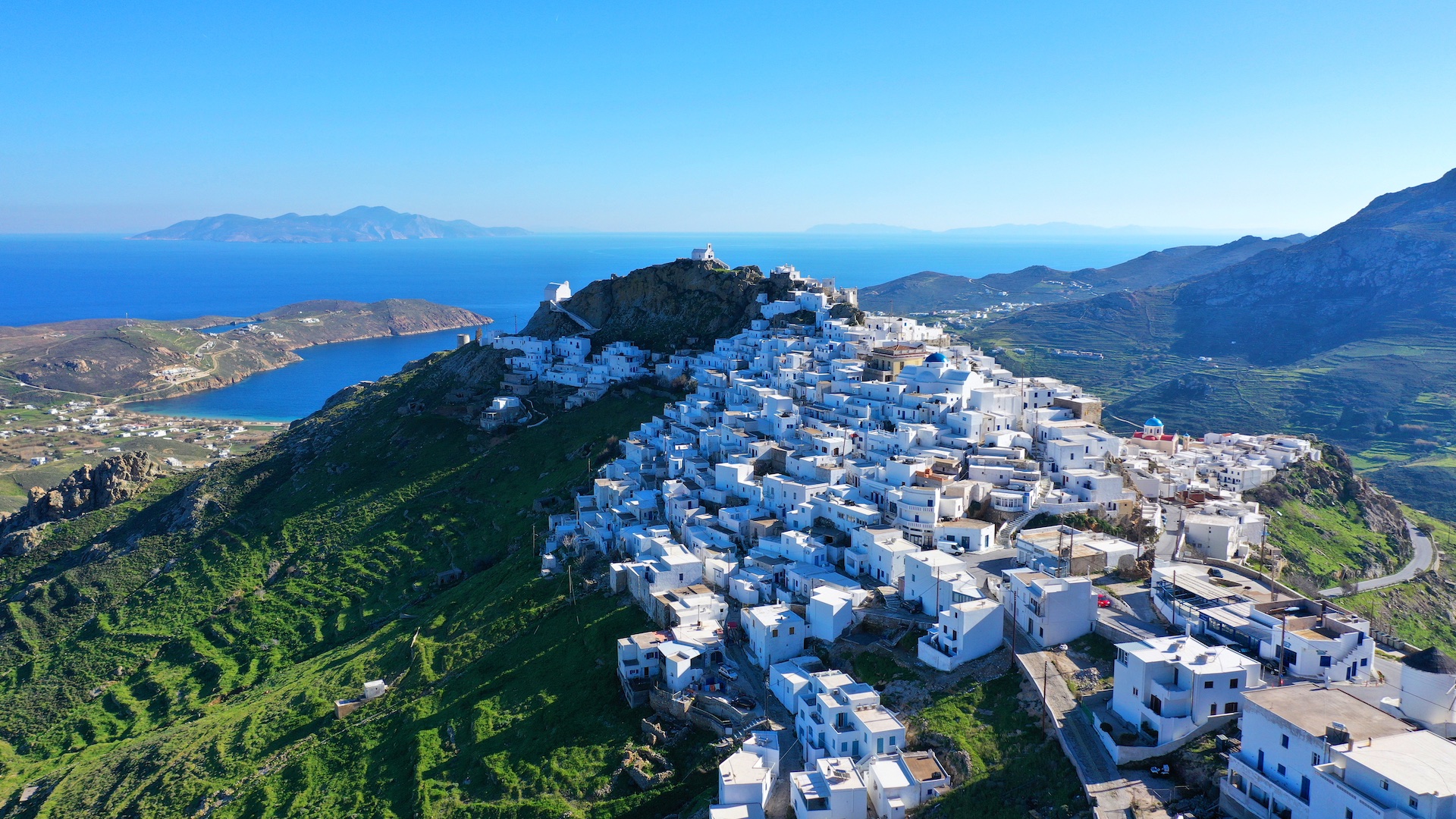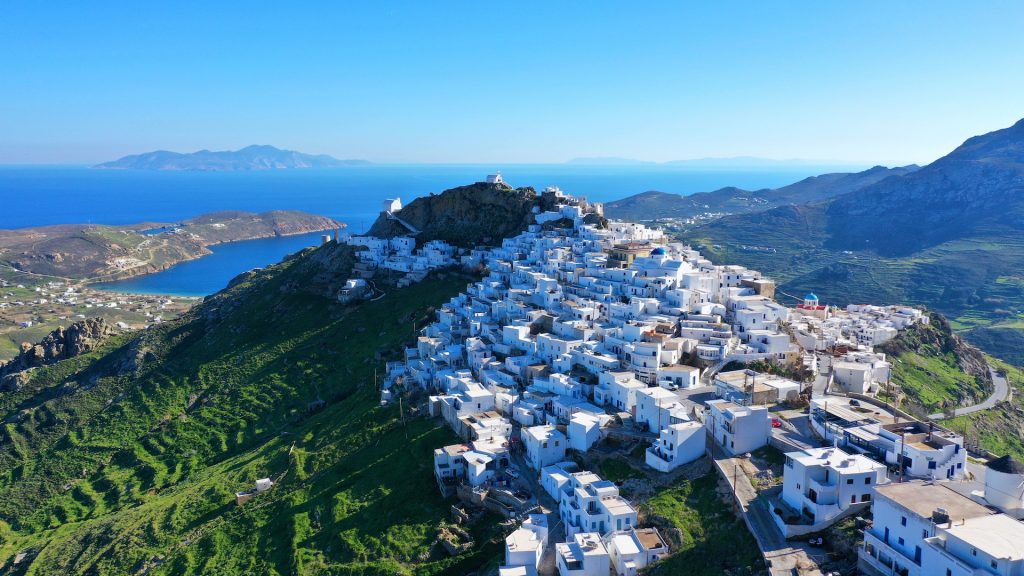 Ready for some dream vacations in the Ionian Islands, Greece? Check all available yacht charters here. 
Cyclades islands are particularly popular with crewed motor yachts, crewed catamarans and since recently, gulets too. Often we suggest one-way charters from Athens to Mykonos or to Santorini, depending on the time of the year. There is an airport on both islands. This area is particularly glorious out of the main summer season (July and August) – June and September are beautiful and less windy. High Point Yachting has access to some fantastic crewed yachts in this area. We inspect them regularly (mostly during the boat show) and work with some of the best teams in the yachting industry.