We are going back to Sardinia for our 11th High Point Yacht Fest! However, for the first time, the event will be out of Cagliari! There is a great excitement about the new area. Our local partners are Cagliari Sailing, welcoming and knowledgeable team.
Event dates are 28 September – 5 October 2019
View our HPYF 2019 fleet, Cagliari, Sardinia.
PLANNED ITINERARY:
28 September – Check-in at Portus Karalis Marina – Welcome Party
29 September – Bay of Nora
30 September – Porto Teulada
1 October – Porto Pino
2 October – Carloforte
3 October – Tuerreda Island (for Roux Gourmet Night)
4 October – Portus Karalis – Prizegiving dinner
5 October – morning disembarkation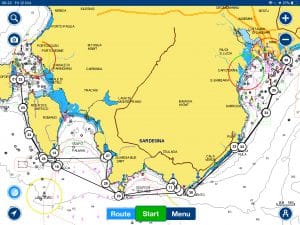 Registered skippers:
John Hall Hall – Bavaria 51 Cruiser 'LISCIA RUJA' (RABBIT BOAT)
Keith Hale – Dufour 512 'KAL'E MORU'
Carolyn Krijsne Locker – Bavaria 51 Cruiser 'MEDITERRANEA' (HPYF 2018 WINNERS!)
Dave Brewster – Bavaria 51 Cruiser 'SILKWAVE'
Steven Visser – Bavaria 51 Cruiser 'TABARKA'
Jakalyn James – Bavaria 51 Cruiser 'MARI PINTAU'
Colin Ford – Bavaria 51 Cruiser 'PAN DI ZUCCHERO'
Denis O'Brien – Bavaria 46 Cruiser 'MASUA'
John Yates – Bavaria 46 Cruiser 'TUERREDDA'
Important dates:
19/11/2018 Destination announcement – CAGLIARI, SARDINIA
19/11/2018 Entry list open
28/09/2019 – 05/10/2019 – HPYF 2019, Cagliari – Cagliari
07/10/19, Shivaun – Boat PEVERO:
Sash and John,
It's been an amazing week. And you've kept that magical essence you created. The fun, the professionalism and at the same time a great informal & intimate time.
I know it takes a lot of effort to make that happen. And I enjoy the benefits. Both parties were stunning. Races well planned. We all loved having the same boats (nothing to blame, alas) and I loved how you welcomed the new and celebrated Birgit's 81st. That was so thoughtful of you.
I adore meeting the old friends that I haven't spoken to for a year. Learning something new about them, using more double entendres than I have in the previous 12 months, dancing to Europop and overthinking strategies to win gourmet night.
I'm afraid, having plummeted to a murky depths in theme and costume this year, as well as having used up all of my Skipper's willingness, I can't imagine where next year will take us.
Hugs and a clap on the back to you both.
Shivaun xx
08/10/19, Brigitte – Boat POTA POTA:
Des Sasha and John,
Once again a tremendous High Point week, thanks to you. The Pota Pota crew had an amazing time as always. I hope that John didn't mind the ribbing over the handicap too much, it was all done in good humour by us as we know how hard you work to try and keep everyone happy. Not a job I envy! The main thing for us is to enjoy the company, the sailing and the weather; if we can keep up with the rest of the fleet, it is an added bonus!
Thank you both.
Brigitte

 xx