We're very proud to announce that we have been appointed to organise the Engineering Challenge Cup (ECC) 2020 (www.eccsailing.com). Due to the pandemic, dates have been moved to 8 – 15 May 2021. For the event, like for the rest of the world, this has been a strange and surreal time. But we are hopeful and optimistic that life will go back to normal again for us all. We are enthusiastic and excited about organizing the ECC event again and will make sure it is a super special celebration!
I would like to thank Commodore PIETER HADJIDAKIS and his crew from boat 70 for choosing us to be the 2020/21 organisers. I look forward to working with you guys!
ECC regatta will be held in Croatia, from Trogir – Dubrovnik. It is very exciting to be back in this area and doing a one-way route for the first time!
As usual, we are expecting it to be another spectacular reunion of sailors and friends, this time in Dalmatia, one of the most beautiful sailing grounds in the world.
We will be a fleet of 54 boats size 44ft – 51ft, gathered in Trogir, which will be our starting point. The route will take us to Dubrovnik with ACI Marina being our final stop.
We are also pleased to announce that Alen Kustic will be our Race Officer. Alen has been involved with ECC since 2005, either as a Race Officer or a great support to the Race Officers in other destinations with arranging the handicaps and TCFs.
Important dates:
14/06/2019 Destination announcement – CROATIA, route Trogir – Dubrovnik
26/07/2019 Closing of the entry list
August 2019 (date to be announced) – Publishing of the Boat List / Allocation of the boats
October 2019 – Recce trip
09/05/2020 – 16/05/20120 – ECC 2020, Trogir – Dubrovnik – EVENT MOVED TO 2021 DUE TO PANDEMIC
ECC 2021 DATE: 08/05/21 – 15/05/21, Trogir – Dubrovnik

Proposed Route (TBC):
DAY 1 (Saturday) – Trogir – Registration, Check-in, Welcome Party
DAY 2 (Sunday) – Palmizana, Pakleni archipelago nr Hvar
DAY 3 (Monday) – Vela Luka
DAY 4 (Tuesday) – Korcula
DAY 5 (Wednesday) – Mljet
DAY 6 (Thursday) – Slano
DAY 7 (Friday) – Dubrovnik – Check-out , Prize Giving Ceremony and Gala Closing Party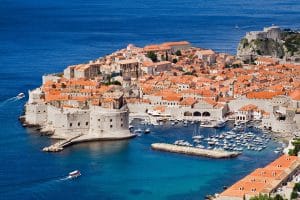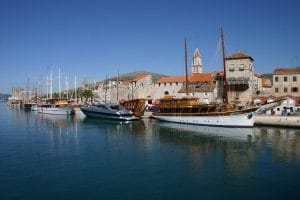 Dubrovnik                                                                   Trogir
Both UNESCO World Heritage Sites!